June 23, 2014.   We've spent the last year getting rid of salt, polishing, installing a new transmission, replacing boat cushions, and sanding & priming the topsides for a new paint job.  Carl tried to paint the topsides last fall and realized this was a job way beyond his abilities.  This spring  he sanded everything smooth again, and am now told that the boat is inside getting ready for a professional to topcoat it.  Two part paint is very difficult to mix properly, as the temperature and humidity change as you are painting, meaning you have to change your paint mix on the fly. 
We'd originally planned to spend over 6 weeks this summer cruising Lake Superior, but delays in painting and Carl's hernia operation have changed those plans.  We are now hoping to  spend a few weeks on the Canadian shore while spending time in the Apostle Islands as well.  With a little luck, Running Free will be back in the water the week of July 6th.
July 10, 2013. We arrived back in Minneapolis on May 18 from Ft. Pierce, FL, with a stop in Orlando to see Harry Potter's "World of Wizardry". We enjoyed that very much being we're big fans of the Harry Potter books & movies. We left Lake Superior in 2008 and sailed Running Free summers to get it further east each summer. So, after 5 summers of being away sailing, it is mighty fine to be back here enjoying a Minnesota summer!
We were at Barker's Island Marina in Superior, WI, on June 14 to see our boat arrive via truck from Fort Pierce, FL. Cross Country Boat Transport did a great job of transporting our boat safety. It is now in the Boat Yard at Barker's Island sitting on jack stands awaiting a new "top sides" paint job by Carl. It'll go back in the water next summer. After 11 months of sailing from Rhode Island to Key West and 12 weeks in the Bahamas, we are enjoying being land lubbers.
May 12, 2013. Happy Mother's Day! We're currently in Ft. Pierce, FL, waiting for Running Free to be hauled out of the water tomorrow. The masts are coming down and a truck is coming to take her back to Lake Superior in early June. We have a rental car to drive back to Minneapolis this next week.
We had a delightful time in the Abaco Islands and believe the description of the Bahamas cruising grounds to be accurate: "the Exumas are an adventure, the Abaco's are a vacation". Anchorages in the Abacos were just an hour or two away from each other. Every island had it's own unique bars and restaurants except Man O War Cay which was totally "dry" due to very religious Loyalist descendents who live there. The Abacos were a much more "touristy" type of destination but we enjoyed them very much and met some great cruising sailors who we celebrated many fun "happy hours" with.
We really enjoyed visiting our friends, Jan Dennis & Brian Beckwith, who live winters in Little Harbour on the south side of Great Abaco Island. Through them we got to know all the "locals" and were included in their neighbor's get together, a friend's birthday party at Pete's Pub and the very interesting bronze castings at the Johnston Studio located right off the town dock. Marsh Harbour at Mangoes Marina was fun as we waited for our mail from home. We just loved being in Hope Town Harbour on Elbow Cay again. Last time in the Abacos was in 1977. Great Guana Cay was very social and we had a fun time at both Nipper's and Grabber's bars with friends on the boats Emme, Meltemi & Patty Jean. Nipper's was for the Sunday pig roast and beach time and Grabber's was for the sunsets along with the great "happy hours" thrown in.
Our crossing from West End was supposed to be a motor sail in light winds. We ended up with gusts up to 26 knots and waves on the nose in the middle of the night. Our intention of going to Ponce Inlet were dashed when we realized we were only going a half knot. We turned around and had a downwind sail to Ft. Pierce and the Harbortown Marina, where we are currently docked.
The decision to quit the cruise and return the boat to the North Country is a difficult one to explain as our feelings seem to change constantly. We will try to sum up our adventure in a few weeks when we have some hindsight to clarify our thoughts.
April 15, 2013. We are in Marsh Harbour in the Abaco's. We left Nassau on April 5th, after Josh and Zoe's visit, and sailed to Spanish Wells on the northern tip of Eleuthera and waited out a blow while there. It was interesting to see a different part of the Bahamas. The original settlers were a religious sect that didn't allow any of the British Loyalists to have slaves there. As a result, the town is almost entirely white. Fishing is their big industry and all the fishing boats are co-operatively run. By working on a boat you can get an ownership interest. Because of that many of the young people stay in town as good jobs and opportunities are available. We celebrated Joyce's birthday at the marina.
We had a rip-roaring 60 mile sail up to The Sea of Abaco with 10 foot swells keeping us alert. We anchored off Lynyard Cay and in the morning, at high tide, we entered Little Harbour for a four day stay visiting with our friends Brian Beckwith and Jan Dennis. They came this far south in their boat, Roving Seas, and decided it was the place for them. They bought a house, named it "Done Rovin", and are an active part of this thriving little community. While there we watched the Johnston Studio Thursday bronze casting. Randolph Johnston moved there with his family in the 50's, lived in a cave for a while and set up his studio and home in the harbor. They have sold off much of their land to winter residents like Jan and Brian and his son Pete now runs the studio, the moorings, the dock, and the Pub. We got to meet the entire town through Jan and Brian and were invited to a couple of parties and the Friday night local night at the Pub. It was quite a week.
As we were leaving Little Harbour two days ago, we found out our transmission wasn't working and had an exciting time with a hurried anchoring and sail up to Marsh Harbour where we had to anchor under sail. It was quite harried short tacking into a strange harbor with depths only a foot or two below our keel. With a change of oil and some adjusting, the propeller now turns in both directions, and I think we've got it fixed. Marsh Harbour is the third largest city in the Bahamas and we are going to take a marina slip for a week while we wait for mail, get prepared to see the rest of the Abacos and then return to Florida.
April 2, 2013. We're back in the Nassau area with daughter, Zoë, and her husband, Josh Joiner, as guests. Updating the blog is still difficult to get to a connection that allows us to use the FTP program that uploads our stuff. As we were leaving Highbourne Cay on March 25, a boat started to follow us quite closely and as we were getting concerned about their intentions, we got a call on the VHF from the skipper asking us if we knew a guy named Russ. Carl says yes, and then our friend Russ Armstrong came on the radio. Small world! He and wife, Betsy, are in our Lake Superior Cruising Group which meets through the winter in Mpls. where we discuss all things sailing. It turns out that he was helping the owner deliver the boat behind us to the States after making an overnight sail from Long Island south of the Exumas. We had them over for dinner that evening in a Rose Island anchorage and then stayed at the Harbour Club in Nassau with them until they left 3 days ago.
The Harbour Club is the best marina in Nassau for the "not millionaire" crowd with a swimming pool, mall across the street, and located on Nassau's main street. We stayed there waiting for Zoë and Josh to arrive on the 28th and were docked at the Harbour Club for 3 days. We 3 walked to Potter's Cay in this harbor where all the fishing boats are moored and where fresh fish, conch & lobster can be purchased. We had a great Bahamian lunch with grilled lobster, snapper & conch at Twin Brother's café right on the water. From there Joyce walked with Zoe & Josh all the way to Junkanoo Beach beyond the Straw Market and the cruise ship docks. That's a lot of walking so a taxi was the ticket for the ride back to the boat. We went on a scuba dive the next afternoon with Bahama Divers to Cannonball Reef by Rose Island. There were 42 of us scuba divers & snorkelers onboard. Zoe & Josh were newly certified to dive, so this was their first dive with good visibility and interesting things to see in about 25 feet of water. I even got to scuba using my vintage '60's mask & enjoyed doing that again after so many years. Joyce was happy with snorkeling & feeding the fish dog food she purchased from the dive shop in a ziplock bag.
We celebrated Zoë's birthday on Sunday, the 31st which was Easter Sunday. They wanted to get some sailing in (Josh asked many good questions) so we left the harbor that morning and tacked into the wind a few miles heading east and anchored on the north side of Rose Island between a reef and a beautiful beach. That night for Zoe's birthday supper we had fresh grouper filets with vegies with chocolate cake for dessert once she blew out the candles. Yesterday, April 1st, we enjoyed taking the dinghy to the reef near our boat and we 3 snorkeled all around it. After that, we enjoyed spending time on the beach and exploring that part of the island. It was Easter Monday so many Bahamians were there celebrating the day with boating & picnics on the beach. A big weather system came in early evening with squall-like winds and rain so we shut the boat up tight and were happy that our anchor held tight during the big blow. It cleared up later, the stars were bright and we could see Atlantis Resort on Paradise Island to the west all lit up with its salmon colored lights. Had they been green, it would've looked like OZ! We motored back to the Harbour Club in Nassau this forenoon. We said our goodbyes to Zoe & Josh this afternoon for their flight to Houston. It was such a wonderful visit & we love them so much. From here we'll make our last provisioning runs prior to heading up to Eleuthera and then the Abacos this. Hope to be back in Florida from Grand Bahama Island the end of this month.
March 20 , 2013. I find it hard to motivate myself to update the blog when our internet connection from Bahamas Telephone Company (Batelco) won't let us upload the files. We have been enjoying the living down here so much. We left Staniel Cay and cruised to Black Point Settlement and then to Georgetown, Great Exuma Island, and now we are back in Staniel waiting for our box of mail to arrive at the Yacht Club via Watermaker Air which flies here daily from Fort Lauderdale.
Black Point was much more "Bahamian" than touristy and it was wonderful to get to know some of the locals there. The anchorage is fine if the wind isn't from the west and the laundry, run by Ms. Ida, is perhaps the best in the Bahamas. Georgetown is a cruisers' paradise; there were 320 boats there the day after we arrived. This is the fourth time we've been there and it was fun to see the changes. We partied at the "Chat & Chill" also known as Volleyball Beach and enjoyed many of the friends that we made on the way down there. We took a bus tour of the island to a resort at the northern end called Exuma Point where we enjoyed a great Bahamian lunch with music, games, beach, and a "freed slave" cave to explore.
Our sailing has been much better as the winds are in the right direction and strong enough to get us moving without being uncomfortable. We had a wing and wing sail up from Georgetown in large swells that proved too much for the autopilot and a part broke that connects the rudder to the rudder position indicator. I fixed it yesterday with a kluged part I made out of bar stock aluminum with a snorkel trip to "Thunderball Cave" in between. The cave was filled with fish that would swarm you when you took out a ziplock of corn for them. It's quite an experience. We also saw a blue Freedom 40, Blue Swany, as we were entering Staniel yesterday. We were thrilled to see a boat that looked nearly like ours and we shouted back and forth and Joyce took a few good pictures. They just came by our boat which is on a mooring by "Thunderball Cave" and we shared lots of information about our boats. Theirs is hull #1 with the aft cockpit built in 1978 and ours is hull #38 built in 1980. The owners are Bruno & Gerta from Belgium and they keep their boat in Fort Pierce, FL. Very fun experience.
From here we hope to go back to "The Aquarium", a wonderful snorkel site near Cambridge Cay in the Land and Sea Park, and end up in Nassau in time to pick up youngest daughter, Zoe, and her husband, Josh, on the 28th. They will sail with us for 5 days.
March 2, 2013. We're in an anchorage off Big Majors Cay near Staniel Cay waiting for a "norther' to pass through tonight and tomorrow. We've been here a few days and are happy to be able to fill our water and fuel tanks and especially get rid of our trash ($5 fee) at the Staniel Cay Yacht Club. Our Minnesota friends from Greenstone and Summer of '42 are anchored right by us and it has been fun socializing with them. The water is clear, the diving is great if you can do it during slack water, and there isn't much else going on. The Cay is great for laid back vacationing with several rental cottages, rental boats, and two airlines that fly in on a daily schedule.
We had the pleasure of picking up our mail yesterday, which included a new "SPOT" GPS unit that tells you where we are if you click on the "Find Us" link at the top of this page. Our Bahamas Telephone Company (Batelco) "hot spot" is functioning for internet access, but you have to follow the instructions of several internet providers that say: "click on the link, then either take a look at the beauty outside or take a drink of your Kalik beer and wait patiently for your page to come up". We are reminded that all our data travels at least 44,000 miles (to satellite & back) prior to arriving. It forces you to slow down.
Sunday or Monday we will proceed to Black Point which is a little less commercial and then down to Georgetown for the gathering of several hundred cruisers that winter there.
February 24, 2013. We are currently at the Exuma Cays Land and Sea Park in Warderick Wells. We've had quite the adventures since leaving Bimini. We spent the first night anchored near the Mackie Shoal Light (which wasn't working) totally out of sight of land. We went to sleep in a nice gentle roll and woke up in big, uncomfortable swells. After a long 47 mile beat to Chub Cay, we noticed the boats in the anchorage rolling and decided to pay for the marina which had nice new docks, caters to big powerboats & was very expensive. But we found the showers to be lousy & rundown as with the laundry which Joyce didn't use. We had a calm night at the dock, however, so we got a good night's sleep. The next day was a 41 mile beat to Nassau where we were pleased to find that our Minnesota friends on Greenstone had made a reservation for us at the Nassau Harbour Club. It was almost like "old home week" when we found not only Bob and Judy Snyder on Greenstone, but their guests Jeff and Jean Burton too. Then Wally and Connie Waffensmith came in on their boat Summer of '42. These folks are all Lake Superior sailors. Then came Paul and Gail Sommers on Dragon's Wing (who we met in Nova Scotia 2 year's ago). Across from us on the dock was J.E. Fordycee on Adagio from Toronto who is a past Commodore of the GLCC (Great Lakes Cruising Club). The last sailing friend who came in was singlehandler, Ferro, who we met in Bimini.
We experienced what the Bahamians call "Winter" while we were there. For 4 days the temps dropped to the 60's, the east wind blew up to 26 knots and we got a heckuva rain storm that cleaned the boat wonderfully. While we were in shorts and t-shirts, the Bahamians were in warm hats and jackets. We ate at several good cafes, were able to shop at a good super-saver store and saw the rest of Nassau while taking the bus to the mall for our shopping. We celebrated Valentine's Day at the Poop Deck Restaurant with the folks on Greenstone. We celebrated our last night in Nassau at a fine Chinese Restaurant with the folks on Greenstone, Summer of '42 & Dragon's Wing.
Once the wind changed a little to our benefit there was a parade of boats heading east out of Nassau on Feb. 19. We left for Allen's Cay and visited the native iguanas that live there. They come out in force expecting food whenever they see a dinghy coming to shore. I was able to scrub much of the weeds off of Running Free's bottom and we sailed to Norman's Cay the next day. From Norman's we sailed south in the Bahama Bank and then motorsailed east into Warderick Wells where the headquarters for this beautiful Land & Sea Park is located. We had a wonderful day with the Greenstone crew yesterday with snorkeling in the a.m. and later hiking up to Boo Boo Hill. Joyce found a piece of driftwood on Boo Boo Beach and decorated it with our boat name & together Greenstone & Running Free are represented up there on that hill along with the many other boat names who have visited here too. Last night we enjoyed a "happy hour" on the beach with the other boats moored & anchored here. We all brought our own drinks and a dish of food to share.
Tomorrow plans are to go to the southern part of the Park at Cambridge Cay for a night and then to Staniel Cay where our mail hopefully awaits us. Our new SPOT location device (which is hooked up to our website) should be in our mail. Communications are difficult as most are through the VHF radio that only reaches 20 miles or so. Telephones and internet are catch as catch can. Joyce has a Bahamas phone through Batelco and the phone number is: 240-473-6685 which should be good until we leave the Bahamas in 2-3 months and head back to Florida.
February 8, 2013. Halleluiah! We had a great 101 mile passage through the water last night from Marathon and are docked at the Bimini Blue Water Marina along with about 10 other boats. 17 hours it took and we got in here at 11 a.m. Carl had us pegged at noon--pretty dang close. Light SE winds for much of the night and they clocked around to the SW and picked up a little so we could turn our engine off a couple times and have a nice broad reach sail. The actual distance was 120 miles; we got a great lift from the Gulf Stream.
Getting into this North Bimini harbor can be tricky especially if the SW/W winds are really blowing creating big waves. This caused no problems as it was only blowing 12 knots. We followed the red channel marker in right to the Bimini Sands Beach Resort and eyeballed it getting around a shoal before we took a sharp left turn about 200' from the beach. A great Bahamian guy, J.R., from this marina helped us get the boat docked.
Now we have both taken naps & showers and we'll go exploring. It looks like winds will be favorable to leave here on Tuesday or Wednesday for the Berry Islands and then to Nassau.
February 6, 2013. We've been back in Marathon for several days now. The sail back from Key West was mostly motorsailing, but at least we didn't have to tack. Marathon is a very friendly & comfortable place to be as a boater. We are now pretty well supplied for our trip to the Bahamas and plan on leaving for Bimini tomorrow afternoon, winds & weather permitting. Yesterday we took the birds to the vet to get a health certificate which is required to get them into the Bahamas. We are still waiting for the pet importation certificate via fax that we applied for and may have to go without it. The Marina said it would mail it to daughter Amber for her to send in our next mail delivery to Nassau.
We've been able to see Claus and Rachel Newman on Kyanna again as they are in the mooring field, although they left today for a little jaunt to a secluded anchorage for a few days. Vicki and Craig Steinkraus had us for dinner on Saturday before the Marina music jam session in the Tiki Hut. It's surprising just how much talent there is among the over 200 boats moored & anchored in this harbor. We had a lot of fun at both activities. Luanna and Jack Jibben (Joyce's cousin) took us to the Crane Point Nature Center and it was interesting to see how the Keys looked prior to tourism. At the SSCA luncheon last week we met a very interesting couple, Monty & Betsy Morris, from Marblehead, Mass. They have cruised extensively on their sailboat Salsa. We had them over for dinner on Monday evening. She is a writer and Joyce just bought two of her books.
It may be a little harder communicating once we get into the Bahamas, as our Verizon "Hotspot" will no longer function for internet and we will have to rely on wi-fi connections. Our T-Mobile phones will no longer function either. We plan on buying a Batelco phone card in Bimini, but at 48 cents a minute, we may not be able to afford to talk for too long. Our replacement SPOT hasn't been received yet either, so our "Find US" page can't be updated.
January 29, 2013. It's hard to believe we've been in Key West for a week now. It's also a bit amazing that we can have a very active social life over a thousand miles from home. We've actually overbooked ourselves and last night missed a meeting with Dane and Ursula on Voltaire when Joyce had us meeting up with her cousin at the same time. We also had a happy hour in one of the many wharf bars with Bob and Kat who skipper boats here in the winters and in Bayfield summers. We were especially pleased to have lunch with Bob MacDonald, the founder and Chairman of LifeUSA, on Sunset Key across from Mallory Square. Bob has always been an inspiration to me and taught me that business can be done not only ethically and successfully but also with a lot of fun involved. He blogs his thoughts at: www.bobmaconbusiness.com and I never miss a week.
Our e-mail got hacked this morning and I apologize to anyone that got the connection to earning money over the internet. It came from a trusted friend and it was disappointing to learn that we had become a part of this nasty business.
Key West has been a blast, even though our mooring buoy was a mile and a half from town. We've seen the Truman "Little White House", the Eco Center, the beach, Zachary Taylor State Park, the Key West Race Week Regatta, some wonderful gardens, a couple of manatees and eaten some wonderful food at a few of the islands 166 restaurants. We paid to stay at a dock tonight in order to get pumped out and full of fresh water. Joyce is doing 4 loads of laundry. We plan on enjoying a night out on the town tonight without having to worry about dinghying back to the boat in the dark. When we got here, we heard a saying: "sell everything but the dog and move to Key West". I didn't fully understand this until we began to see many talented dogs earning their owners' a living. Many call this Key Weird, but we found Provincetown to have more weird characters than Key West but that might have been that we were in P-Town for their Carnival.
The wind is supposed to change to allow us to sail back to Marathon tomorrow. We will stay there until the wind allows us to cross the Gulf Stream to Bimini, probably in another week or so. From there we'll head to Nassau and the Exuma Islands
January 15, 2013. It's hard to keep up with the postings as we have had so much to do and our laptop that has the password to our website lost it's internet connection a week or so ago. We have a new wireless adaptor so hopefully everything will get updated.
We're currently in Marathon, FL, in the Middle Keys. The harbor has over 200 moorings and probably as many slips so there are lots of boaters here, many permanently. You can tell the permanent ones by seeing the furry looking growths on their hulls. The moorings are inexpensive and the island is very boater friendly. Our friends, Vicki & Craig Steinkraus, have been here on their boat "Wings" for a few weeks. We recognize several cruising boats that we met as we sailed down the east coast.
We left Ft. Lauderdale and had a pleasant motor to Miami Beach. The South Beach area is ideal for boaters as the anchorage is well protected and they have several dinghy docks, one right across from the Publix supermarket. We enjoyed a few days there and then went to the top of Key Biscayne to stay a night. The marina was not very transient friendly, but we got to visit with our son-in-law's good friend, Jaime Topp, who keeps his sailboat there. Jaime has been sailing the area for quite a number of years and gave us some great advice about going down the ICW into the Keys. We had a wonderful sail from Key Biscayne to Key Largo, 15 to 20 knot tailwind, and spent a couple nights there anchored by Gilbert's Marina (which has got to have the largest Tiki Bar we've ever seen) and then motor sailed a day in very shallow "skinny" water. It's eerie sailing in water when the knot meter matches the depth meter. We're not sure whether to be more concerned at 6 knots and 6 feet or 7.5 knots in 7.5 feet! The next day we went outside the ICW into the deeper Hawk Channel and had another wonderful, 15 to 20 knot tailwind sail to Marathon.
We met up with Joyce's cousin, Luanna Jibben, and her husband Jack, who live winters on Little Torch Key south of Marathon. We've had a couple of meals with them and have had a great time catching up after 14 years. Our plans are to leave Marathon for Key West on Sunday or Monday. Our only worry is that the wind has been consistently out of the east and we will have to sail east to get back from Key West to the Bahamas. Hopefully there will be a system passing through at the right time allowing us to make our plans come to fruition.
January 6, 2013. We're anchored in Lake Sylvia, Fort Lauderdale. The weather is warm and it's nice to be experiencing our second "summer". It's a strange city in that is built on boats but doesn't have much sympathy for us who like to anchor. This small lake is one of two places in Ft. Lauderdale where you can anchor. It is also one of two places in the city that you can water ski. Go figure! The only dinghy docks in town are either bad places to leave them or costs of $10 to $20 are required for the privilege. We found the Southport Raw Bar on the 15th St. canal which allows us to tie up and the $10 fee is waived if we eat there. Luckily they have great burgers for $4.50!
We came down overnight from Vero Beach so that we could both leave and arrive in daylight. The 110 mile, 21 hour trip was non-eventful other than having the engine room sprayed with oil. When we filled the water tanks in Vero, I allowed it to overflow, and the vent for the tanks ran the extra water into the pan that sits under the engine to collect any leaking oil. The water filled it up, pushing the oil to the top, where it was spun into the engine room by the connection between the propeller shaft and the transmission. It was quit a mess to clean up the next day.
I've been continually amazed by all the wildlife we see this trip that we didn't see on earlier trips south. We've seen dolphins feeding almost every day. I've seen three manatees that Joyce missed. The pelicans are everywhere and now we are seeing flocks of large green parrots flying over at sunset. We saw some sea turtles on the overnight down here.
Tomorrow we are off to Miami Beach and have an anchorage picked out that is a walk to South Beach. It should be a good time.
December 29, 2012. The holiday season has been a little subdued this year away from family. We did have a wondrous time at Brian and Kim Larson's condo in Daytona Beach. It was easy to get in the Christmas spirit there as the Larson's had their condo all decorated for the holidays. We met the Larson's in the Caribbean in '98. They were cruising with their kids as were we. Our friend, Captain Terry McGuire, came over from his winter home in Inverness, FL, to spend a couple of nights with us at the condo. There is no better meal served than one put together by Joyce and Terry in a full service kitchen. We ate very well and also got some shopping and sightseeing done thanks to Terry and his pickup. We also enjoyed seeing the movie The Hobbit. Running Free was left at the Adventure Yacht Harbor Marina (near the Larson's condo) while we enjoyed condo life.
From Daytona we motored a couple of days down the ICW to the quaint '50's & '60's style village of Cocoa and spent Christmas in their very nice marina. It even had a sauna which we really enjoyed. Several boats in the marina were bedecked in Christmas lights so that made things festive. We took the bus to Cocoa Beach, saw the famous Ron Jon Surf Shop, and then saw the movie Jack Reacher starring Tom Cruise. A couple more short days of motoring brought us to the Vero Beach City Marina moorings where we will stay through New Year's. Many cruisers call this Velcro Beach as it is very hard to leave. The moorings here are very well protected and include full use of the marina facilities for only $15 a day. There is free bus service to the mall and to the beach. We went to a lovely farmer's market this morning which takes place every Saturday at a park near the beach.
Running Free has been behaving very well (knock on wood), and it is nice to be in warmer weather with smaller tides and less current to contend with. The weather has gotten about a degree warmer for every day we go south. We will probably go to Ft. Pierce next and then do an offshore run down to Ft. Lauderdale.
December 20, 2012. We are presently anchored in Daytona Beach waiting for the tide to rise so we can get into a marina that should have our mail. We motored almost 50 miles yesterday from St. Augustine in a long, beautiful day. Since our last post, we left Fernandina Beach for a short run to the St. John's River and ended up hard aground as we were trying to anchor. The current pushed us into the shallow water and then the tide continued to go out leaving us helpless. The Towboat US man came and waited a couple of hours for the tide to rise and then pulled us off. It was quite an ordeal. As the boat leaned over, Carl got in the dinghy and scrubbed the exposed hull. Good thing that our Boat US insurance includes unlimited towing! We are happy to be leaving the area of heavy tidal currents. They lessen as we go further south.
We spent a couple of nights in downtown Jacksonville and had the pleasure of visiting with Joyce's cousin's son and his wife, David and Christa Hanson. We were almost stuck in Jacksonville for an extra day as a heavy fog covered the river as the favorable tide was waning away. Joyce's wanting to "get going", a little lessening of the fog and another boat going out got us off the dock and we got on our way to St. Augustine. We only had to fight the tide for a couple of miles and then it turned to our benefit.
After spending time in St. Augustine in 1977 and again in 1999, it was almost like coming home. The only thing that changed is that the anchorage has been turned into a giant mooring field. This wasn't all bad as the cost was $20 a night and included all the marina amenities. I was able to take care of the last of our Nov. 23 boating accident business (except depositing the insurance check) along with most of my Christmas shopping. Joyce enjoyed seeing the shops on historic St.George's Street. We had a wonderful lunch with Kim and Brian Larson, the crew of Destiny, who we sailed with in the Caribbean in '98 and '99. They've offered us the use of their condo in Daytona Beach as they are going to spend Christmas in Minnesota with Brian's family. We're looking forward to visiting with Bayfield friend & sailor, Captain Terry McGuire, while here as he is driving over from Inverness, FL, his winter home, to see us for a couple days. Christmas plans for us are uncertain. We may be here or south to Vero Beach.
We are ½ ways through our year's sailing adventure on our boat Running Free. We've put on lots of miles between Wickford, RI, (where the boat was last winter) and here--at a slow pace, seeing the sights and meeting some mighty fine people. We are fortunate to be able to experience this lifestyle. We send warm Christmas greetings to you with peace & love in the New Year.
December 11, 2012. Repairs were done during the 12 days spent at Thunderbolt Marine in Savannah and we are moving again. The crew at Thunderbolt did a marvelous job of repairing Running Free after our boating accident in Beaufort, SC. The new teak cockpit coamings look better than the previous ones. The dodger panels were done beautifully and the stainless work is such that you can't tell it's been repaired. Thank goodness for insurance to help pay for it all. Thunderbolt Marine runs a class act. We were the smallest boat there and saw several over 190 feet being worked on. We had dinner on board a 97 footer with Captain Jones and the Stewardess Whitney and enjoyed learning a little about that kind of life. Plus, we enjoyed seeing twenty-two historic squares in Savannah. While there we ate a Paula Deen's saw the new James Bond movie and got the necessary shopping done while learning about the City Transit system.
Currently we are in Fernandina Beach, FL, after an overnight offshore passage from Thunderbolt. The overnight was uneventful. We motored the whole way, much of it in fog. Yesterday we had lunch with our daughter Zoë's college roommate, Patrice Jones, after having "happy hour" with friend, Andy Buck, on Andante the night before. Currently Joyce is with Sylvia Mueller doing shopping and I have been here at Tiger Point Marina waiting and watching our stuffing box get re-stuffed (it keeps the water out of the boat around the propeller shaft) and keeping Sylvia's husband, Bill, company. It's been fun seeing Bill and Sylvia again. They recommended Tiger Point Marina for our stuffing box repairs as they have Eos pulled out of the water to fix some fuel leakage problems here. They are part of our Lake Superior Cruising Group.
We hope to leave here on Thursday for Jacksonville either in the ICW or offshore depending on the tides and currents.
November 26, 2012. It looks like were going to be stuck in Thunderbolt, GA. for awhile. When leaving the dock last Friday in Beaufort, SC, the current got the best of me and Running Free found herself impaled on the anchors of the boat docked in front of us. The starboard side lifelines & stanchions, dodger and bimini & stern pulpit were all wiped out. Thunderbolt Marine is the nearest large boat yard that can handle the repairs, so we are waiting for estimates at this point. The canvas man and stainless guy have already been here and we only need the joiner to estimate the teak cockpit coaming damage.
We had a lot of fun in Beaufort. The first night was spent tied up at a Seven Seas Cruising Association "Station Host" dock (Rick & Carol Butler) in Brickyard Creek located by the ICW. Rick gave us a tour of the area and we saw where the Emancipation Proclamation was first read, the Gullah community where they house the largest African American genealogy records, along with the wonderful old houses (think of the movie The Big Chill) and parks in old Beaufort. The next night found us at the Port Royal Landings Marina that our friends, Claus and Rachel Newman, keep their boat Kyanna at. They had us over for dinner that night and we had a wonderful time. Thanksgiving was at this marina which cooked up six turkeys and 48 of us boaters and locals shared potluck to go along with the turkey. It was a different Thanksgiving for us, but we had a great time and met many fine people.
I am usually not very superstitious, but I don't think we will be leaving on any offshore passages on Fridays anymore. Thunderbolt was given its name in the 1500's when the local Indians saw a lightning bolt strike Wilmington Bluff, creating a freshwater spring. We're just a few miles from Savanna so we'll probably be touring that city while our repair work is being done and prior to getting back on our trip south again.
November 18, 2012. Unfortunately, the shorts and t-shirts didn't last very long. We're anchored in the Fenwick Island North anchorage by ourselves waiting for the rain to go away. We did do an offshore passage from Cape Fear to Charleston and it wasn't much fun. We ran with the tide out the Cape Fear Inlet against a wind that created very rough water and made me feel awful for the first few hours. The overnight wasn't too bad, but the motor was running for the entire trip--except for when I had to change the Racor fuel filter. The rough time we had leaving the inlet churned up some gunk in the fuel tank that made the engine run erratically.
The way into Charleston Harbor was against the tide, so we made good less than 2 knots most of the way from the breakwaters to the anchorage in the Ashley River. We had a great time in Charleston despite the cold weather and high tides that caused flooding. We anchored by the Charleston City Marina near our friend Andy Buck, a single handler from Philly on Andante. We walked much of the town with him. On Friday the 16th, we went to the air craft carrier Yorktown museum and had a good tour. Our lunch onboard in the Chief Petty Officers' Mess for $6.95 gave us a feel of the food the seamen used to eat. We also went to the T-Mobile store so that Joyce could get a new phone being that hers went overboard accidentally in the Alligator River of the ICW. Now she is trying to figure out how to make it work. We were hoping to make it to Beaufort, SC, today but woke up with rain and cold and decided to stay put. Things are supposed to get better tomorrow. We look forward to tying up at a SSCA Station Host's dock there. This couple has hosted 16 boats of SSCA members so far all heading south. Happy Thanksgiving to our family and friends. We hope to find a turkey dinner that day in either Beaufort or further south in Port Royal.
November 11, 2012. We're in that position that gives all cruisers a warm fuzzy feeling: the fuel tank is full, the water tanks are full, and the holding tank is empty. We've been "suffering" through cold weather and I'm finally in shorts and t shirt again in Southport, NC, at the mouth of the Cape Fear River. We hope to go offshore to Charleston, SC, tomorrow and get in Tuesday sometime.
We had a wonderful visit with Bill and Cindy Ista in Oriental sharing a couple of meals with them. Our daughter, Amber, had our mail sent to their address. I think I would find it very difficult to live in a place like Oriental due to its remoteness and conservative mindset. It is though one of the friendliest places I've ever been in and places right up there with the Canadian Maritimes in that category. We have partied hardy with a group of sailors at the top notch Whitaker Point Marina all heading south like us. A few of them were about to be going offshore in the "Salty Dawg Rally" to Virgin Gorda in the BVI's.
From Oriental we motored most of the way in the ICW to Beaufort, NC, where we anchored right behind Mark and Katya Gordon on Amicus II who we met in the White River of Lake Superior in 2005. We've run into them in Elizabeth City, Oriental and Beaufort. They are cruising with their two young daughters and a couple of paying crew members in a 40 footer. From Beaufort we motored to Wrightsville Beach to anchor for the night and then had an easy motor today to Southport where we are tied up at the Deep Point Marina. We're looking forward to Charleston and I hope we can slow down a little there and enjoy the warmth of the south
November 4, 2012. We just had a wonderful wing on wing sail from Bear Creek "crik" this morning to Oriental, NC, where we plan on dinner at Bill and Cindy Ista's tonight. They were part of our Lake Superior Cruising Group until they left a few years ago and cruised the Bahamas for a couple years before relocating here.
Our description of Sandy was that it was powerful and quite boring. Yes the wind blew, it rained like crazy and the water went out of the bay, to the lowest point in 50 years, but we didn't really have anything to do for three days. Thankfully we could get off the boat to tour the Albemarle Sound Museum and eat good food at Thumper's Bar with new friend Andrew Buck on Andante who was weathering out the hurricane at the docks with us and 2 other boats. Many of our fellow cruisers left the docks and went up the river and anchored. We were very lucky with this hurricane and don't want to downplay the damage in other places. Our friends with Oakcliff Sailing School in Oyster Bay had 8 of their 40 foot boats sink. Many of the places we have seen on the news were spots we spent time in this summer and our hearts go out to the residents.
The "Inner Banks" of North Carolina are wilderness similar to northern Minnesota: pine trees, bogs, wild animals. We've had a couple of good sails since leaving Elizabeth City after Hurricane Sandy. Many of the anchorages we've stayed at were miles from roads and only populated by other boaters. In the Alligator River, Joyce lost her cell phone overboard while dealing with dock lines into the marina. She is hoping to hook up with a TMobile outlet near Oriental while we are here waiting for mail & visiting the Ista's. It is nice knowing we are getting south even though the weather has gotten to the high 30's at night. Good thing we have a good furnace onboard as we need to keep ourselves and our birds warm at night. While motoring along in the ICW canals we've seen pelicans and even 4 palm trees in which, I think, were a land developers scam so warmth can't be too far away. From here we'll head to Moorhead City and the decision to go offshore or not once we get there.
October 26, 2012. It's been a busy time since Yorktown. Be sure to look at our Photos of Yorktown to see the celebration we participated in there. We sailed into Hampton, VA, and found the Seven Seas Cruising Assoc. Station Representative, Kate Lawrence, who was good enough to get our mail from Amber and lent us her truck for an afternoon. I never knew what "shop 'till you drop" meant until our drive in heavy traffic to: Costco, Best Buy, West Marine, Sam's Club, PetSmart and a liquor store. We came home exhausted. We left Hampton and went through Norfolk, VA, down to Chesapeake, VA, for the night. This was the busiest place we have seen for shipping traffic since the St. Clair River near Detroit. We found a free dock in Chesapeake at a boat landing & park, but it was such an industrial area that we were covered with dust in the a.m. and woken by trains several times in the night.
Our entry into the Great Dismal Swamp was uneventful and very beautiful as we motored down this canal which was surveyed and partly financed by George Washington and dug by slaves from 1790 to 1805. That was quite a feat for its day. The entire area has been logged and it was nice to see second growth timber reaching up into the sky with massive trees of pine, maple, cypress and cedar. We only saw herons, squirrels and turtles for wildlife but are sure there is much more living there.
We are currently in Elizabeth City, NC, waiting for Hurricane Sandy to arrive. We are at the free "welcome" docks and will either stay tied up very well here or plan on going back up the river to some well protected spots tomorrow to wait out the wind and rain. We may be able to leave on Tuesday with a little luck.
October 18,2012 It feels good to be moving again, even if we have to rely on the weather to do so. There is something fundamentally basic about having the weather rule your behavior. We had a relatively short run from Cambridge to Solomon's Island where we meet several more cruisers and saw Craig and Vicki on "Wings" again. From Solomon's to Reedville we had a wonderful wing and wing sail. It was the type of sail Running Free was made for; we just sat back and let the autopilot keep us on course. We saw the other boats having trouble keeping the wind in their sails and everyone we sailed by had someone at the helm constantly steering. We went aground on the way out as we were admiring a schooner that we thought was anchored but was also aground. Luckily we were able to back off with our engine and got off much easier than the schooner.
The next stop was Deltaville, VA, where it seems all the cruisers go. Deltaville was a déjà vu experience as we had stayed there in 1998 in the same place in Jackson Creek off of Lover's Lane. This is where youngest daughter, Zoe, went trick or treating in '98. They really get into the spirit of Halloween there. We were able to dinghy by the anchorage and see all the boats that we heard calling on the radio over the last several days. We also stopped by the Deltaville Boatyard to check up on "Branwyn", our Canadian friend's sailboat, on the hard. We're currently in Yorkville and will see the parade tomorrow celebrating the 231st anniversary of the momentous Revolutionary War battle that won our freedom. Saturday will bring us to Hampton and our mail if the weather behaves as predicted. A north wind would be nice. After that we begin our Great Dismal Swamp adventure heading south from Norfolk.
October 12, 2012 We thought we were moving south again and then got caught in a weather system that made things miserable to be out. So, we're in a well protected cove off of the La Trappe creek on the north side of the Choptank River. We made it to Cambridge, MD, yesterday on the east side of the Chesapeake and had a wonderful sail out of Annapolis. We had to stay a few days in Annapolis after the Boat Show because my debit card had expired and they put a "do not forward" on the envelope of the new one. I was promised a new one last Friday and when it hadn't arrived at the Harbormaster's Office by Wednesday, we decided it was best to do without for now. It's starting to get colder here and we need to start moving south.
The Boat Show was a lot of fun and I've now got the new VHF radio I bought there installed and working. We also found some polish that let our ports look almost new again. It's nice to be able to look out from down below and see things clearly outside. At the Show, we had lunch with Lake Superior sailing friends and made some new ones as well. Through sailing friend, Bill Rohde, we met Capt. Allen Murphy who works for Leopard Catamarans at the Annapolis Landings Marina in Back Creek where we anchored. We appreciated his hospitality and enjoyed dining with him at Davis' Pub near the dinghy dock where we enjoyed turkey & pot roast platters for only $8.50. We celebrated our 40th wedding anniversary on the 7th at the Show and enjoyed meeting up that day with sailing friend, Roland Falkenstein & his girlfriend, Robbin Farr, at Pusser's for celebratory anniversary drinks consisting of "Dark & Stormy's" & "Painkillers". Our anniversary gifts to each other were from the Show: a new bosun's chair for me& a Magma gas grill for Joyce. She has my safety in mind every time I go up the mast and I like her cooking!
Yesterday, as I was installing our radio once we got docked at the Cambridge Municipal Marina, local sailor Jimmy showed up (Joyce had met him at the marina) and offered to drive me to the Walgreen's to fill up my prescription. It just goes to show that when you throw yourself at the mercy of strangers they always seem to step up. Thank you, Jimmy! We're hoping to make it to Solomon's Island tomorrow (just north of the Potomac) and get south as fast as the weather allows. Good thing our boat furnace is working well now as we and our birds, Pepper & Quinn, need the extra heat at night.
October 3, 2012 Annapolis has a lot to offer and we are back here for the Boat Show. We spent a wonderful long weekend in the Rhode River for the Seven Seas Cruising Association GAM. There were over 65 boats attending with at least 450 people. It was fun to rub shoulders with famous sailors and meet a bunch of folks who, I am sure, we will be seeing over and over the next two months as we make our way down the Intercoastal Waterway (ICW). We hope to buy a new VHF radio and a stern mounted barbecue grill at the Boat Show. Running Free has been performing very well recently (knock on wood), but then we haven't been going very far either. We are currently anchored in Back Creek, and find that we can anchor anywhere as long as we are 75 feet from a dock, mooring or another anchored boat. There is no official channel if there are no red or green buoys. It's been quite a parade of boats here as they get ready for the Show this weekend. Our new friend Capt. Murph, who lives and works here, states that there are more sailboats in Back Creek than in the State of Ohio. He has not only lent us his car but introduced us to Davis' Pub next to a dinghy dock that has dinners for $8.50. We thank our friend and fellow cruiser, Bill Rohde, for connecting us with Murph. We hope to meet up with some Lake Superior sailors at the Boat Show this weekend.
September 22, 2012 We're back in St. Michael's, MD. The anchorage is good and they have two dinghy docks for use. It's a two block walk to Talbot Street, where all the shops & grocery store is. The Chesapeake Maritime Museum is a smaller version of Mystic Seaport, and our membership in Mystic got us in free here. It was fun to see all the crabbing and oystering boats and techniques used in catching the critters. Last Sunday, we were able to see one of the famous "log" canoe races. The boats are about 25 feet long with equally long bowsprits and boomkins. They are about 4 feet wide and the crew sits to the high side on planks that appear to be about 10 feet over the water. The mast is very tall with topsails, gaff mains and large mizzens and mizzen staysails. The camera didn't work right so I was only able to get one good picture out there on our dinghy. We left for a bad weather front to move through and anchored in the Wye River (with better protection) for three nights. It was our first deserted anchorage since Lake Superior. While there we dinghy explored and hiked about 5 miles to a 290 year old holly tree sitting there among the soybean & corn fields.
From here we're planning to go to a marina under the Bay Bridge for a night of laundry, shopping and watering, and then back to Annapolis for mail. We should be in the Rhode River for the Seven Seas Cruising Association Gam by Thursday. After that we'll be anchored in Annapolis' Spa Creek for the Boat Show, Oct. 4-8. On the 7th, we'll be celebrating our 40th wedding anniversary hopefully with some new sailing friends and over a few rum drinks at Pusser's.
Joyce just arrived from Big Al's Seafood with a dozen steamed blue crabs so along with listening Prairie Home Companion this evening, we'll be enjoying some good seafood.
September 15, 2012. We are currently anchored in St. Michael's, MD. We spent 5 nights in Annapolis, doing laundry, touring the Naval Academy, spending a day in D. C. and getting parts. Our autopilot remote gave up the ghost on our way to Annapolis. I went to West Marine on Friday and they didn't have one in stock but were able to get one from another store in 45 minutes. I waited, got the new remote, went back to the boat and found out it was defective. They were able to get me another one that I could pick up on Tuesday morning. I was able to get that one working just fine after a half hour phone call to Raymarine Technical Support. We also got a new TV antenna and were able to install it two days ago with help from Craig Steinkraus from Wings. We went from 3 channels to 58!
Last Monday we took the bus from Annapolis to the Metro subway station and spent the day touring the Smithsonian museums in D.C. It was fun to be there again after 14 years. The new National Museum for the American Indian was the highlight. Joyce enjoyed the gemstone exhibit in the Museum of Natural History & I enjoyed the Air & Space Museum. We took the commuter bus back and saw how much of this whole area spends their time in traffic. We're just happy to be retired!
I spent last night on anchor watch, as the wind shifted 180 degrees and the boat in front of us dragged. I was up at 5 am waiting for him to re-anchor, which he did at 6. Joyce is going to tour the winery today and I'm going to spend time at the Maritime Museum. We already checked out the local brewery the day we got here in St. Michael's.
September 5, 2012. We're currently anchored in the Inner Harbor of Baltimore. In Georgetown, we spent a wad of cash on new instruments that work wonderfully, a new hose that doesn't leak, and a clean and painted centerboard that still doesn't come down properly. We were told that Georgetown Yacht Basin was expensive, but worth it. They were right. Zinger got the job done in about a quarter of the time it would have taken me to do it and a lot less time than most "professionals". They did everything they said they'd do and we didn't have to pay for dockage while they did it.
After leaving Georgetown, we went to Rock Hall and anchored for three nights. While there we saw a hot rod rally, and sailing friend, Roland Falkenstein, came down from Philly with his girlfriend, Robbin Farr. We had a great lunch with them at Waterman's and they took us to Chestertown to see that historic area. Our anchorage was a favorite spot for "chicken neckers" who go for crab. It was interesting to see the zeal they put into their lines and baskets. We also experienced a Bay thunderstorm that brought 40 knot winds and a neighboring boat dragging by us in the dark of night. I went in our dinghy to help a sailboat nearby that had run aground.
We had a pleasant wing and wing sail from Rock Hall to Baltimore but took the sails down before we entered the harbor and got hit by another thunderstorm with little visibility. We visited the Pride of Baltimore this morning and I went and saw the U.S. Constellation. It is the last boat in the U.S. Navy that relied on sail. Tonight we're going to Amichi's in Little Italy with another cruising couple from Minneapolis that we just met; Mark and Judy McClellan.
August 25, 2012. I can't believe it's already been ten days since we left New York City. We've been working the boat so much we've broken her again. We stayed 2 nights in Atlantic Highlands, after motoring into a submerged sandbar at Horseshoe Cove that wasn't charted properly. We had an overnight to Atlantic City, arriving at 7:00 a.m. at the Golden Nugget Marina (used to be Trump). We were able to enjoy the Boardwalk, the new Revel Casino, the $20 all you can eat buffet (not as good as in 1998), and the Spa at the Golden Nugget. The next day brought us to Cape May where we anchored for two nights by the Coast Guard Boot Camp. The only place to tie up a dinghy is at The Lobster House and that's where we had a great seafood lunch. Also got some fresh seafood at their seafood market for Joyce to cook later.
We met Craig and Vicki Steinkraus on "Wings" in Cape May. They left Duluth in June. We crossed the mouth of the Delaware Bay to Cape Henlopen with them and anchored in the harbor there for the night. I found we couldn't lower the centerboard because of a barnacle infestation after diving to look. We both left with the tide the next morning to get through The Delaware Bay. This time, we timed the run properly and were able to see 8 knots register on the GPS, so we knew we had the tide with us. The Delaware has been a challenge the other two times we've done it and it wasn't nice this time either. Heat in the 90's, humidity so thick you could only see 3 or 4 miles through the haze, just a little wind on our stern so we couldn't feel it, lots of large traffic, and then the hose from the exhaust manifold to the muffler springs a leak and sprays hot water mixed with exhaust into our bilge. About a gallon a minute was going into the bilge so I kept making trips below to pump it out in buckets and empty them into the galley sink.
We made it to the free dock in Chesapeake City and ate again at The Tap Room with the "Wings" crew. A dozen crabs for $32, Old Bay French fries& a pitcher of beer for $8.50. It was a delicious mess. We left there at 3:15 p.m. yesterday to get a good tide, and made it to the Bohemian River and anchored last night. We have to remember how shallow it gets here, and we have gotten pretty tense seeing the depth sounder at 12 feet or less for much of the time. Today we were able to sail wing and wing down the Bohemian river to the Chesapeake and all the way down to the mouth of the Sassafras River. The wind turned on our nose then, and it was back to the motor and bailing every 10 or 15 minutes. We are presently on a mooring at Georgetown Yacht Basin and I have talked to the manager about fixing our hose and hauling out to scrape and paint our centerboard and keel. We should get it all taken care of sometime next week.
I've been amazed at the wildlife we are seeing. We've seen huge fish schools in Long Island Sound and New York's Lower Bay. We've seen Ospreys everywhere. Joyce's maternal instincts have been showing as the parents aren't feeding their fledglings much anymore. They can fly, so they should be able to hunt. You can hear their plaintiff cries for fish. We've also seen a couple of pods of dolphin.
August 15,2007, We left Jersey City this morning. I'll try to include a link to the video:
It's been an amazing week. It started off leaving Port Washington in Long Island Sound and going through "Hell's Gate" (roughly translated from the Dutch "Back Door"). If you follow tidal advice it is quite easy, if not, you will get into trouble The trip down the East River seemed too easy and quickly turned to excitement rounding Manhattan's Battery at the southern end. Most of the ferry boats have docks at the Battery, so it is not only busy, it is extremely rough due to the wakes and the meeting of the East & Hudson Rivers. We somehow got through it and made our way to behind Ellis Island where we anchored for 2 nights. As I got ready for my eagerly awaited shower once we dropped the hook, I found there was no water pressure. Our pressure switch in the pump had broken, with no spare. Three hours later I was able to take my shower using the wash-down pump as a replacement. We were able to buy a new one in Manhattan a couple of days later. We spent a day hiking in Liberty Park in New Jersey prior to going to our reserved slip at Jersey City's Newport Marina. Any spot near the City on the Hudson is extremely rough due to no water traffic speed limit and a lot of ferry, barge, cruise liner, and excursion boats going up to 50 MPH. We were really happy to be placed in one of the inside spots at the marina where the boat rolled for only for a few hours a day during ferry traffic hours. We were around the corner from the PATH subway station which goes under the Hudson River and takes about 20 minutes to get to Manhattan for $1.50. We were also within walking distance to a large mall, good supermarket, two liquor stores, a Home Depot, movie theater, and a few good restaurants. The marina staff and the liveaboard sailors there were so friendly. The place seemed like a 2nd home to us for that week. We highly recommend that marina for any sailing friends going to New York.
Our oldest daughter, Amber, came for the week which was a real pleasure. Her backpack was ½ full of our much appreciated mail. Amber arranged a fun get together on Thursday night at Gonzalez y Gonzalez for her NYU ballroom dance friends and we were included at the party. A great band played all evening and as people finished eating, their tables were taken away and the whole place became a dance floor. It was really fun! Zoe, our youngest daughter, came from Houston for the weekend. She got to the marina after a long taxi ride from LaGuardia at 1:30 a.m. on Sat. We really packed the experiences in that day with her. To be together again as a family of 4 was frosting on the cake for us elated parents. We took the Path into Manhattan and walked the length of Highline Park which formerly was an elevated old train track used over 100 years & restored into this park a few years ago. Lunch was at Veselka, our favorite Ukrainian restaurant, located in the East Village. Then it was off to see the Freedom Tower, under construction, and the 9/11 Memorial. This is always a touching experience. After that for us 3 gals, it was shopping at Pearl River Mart, sushi in the West Village and drinks at the B Bar with Zoe's FSU friend, Drew Cesario, who lives in Manhattan.
Sunday a.m. we took the Path again to see Zoe off at Penn Station where she caught a shuttle to LaGuardia. The 3 of us then walked the lower end of Central Park & found lots of stuff going on there on a Sunday morning. We even got to see the "famous", hawk "Pale Male" perched high on top of the Carlisle Building on Central Park East. A birdwatcher had a high powered telescope set up for viewing this 21 year old bird. We toured M.O.M.A. in the afternoon after eating lunch in a Irish Pub. A real highlight for us yesterday (Tues.) was meeting sailing friend, Bob Hoguet, who we met in P.E.I. in '10. He was fresh from spending 6 weeks on his sailboat Rejoice! after circumnavigating Newfoundland with different crew members for different legs of the journey. We met for lunch at Pershing Square Café located under the Park Avenue overpass next to Grand Central. It was really enjoyable talking with Bob about NFLD as that's where we were last summer. That night we went to the Village Vanguard to see Carl's 1st cousin, Tom Harrell, perform with his excellent trio. The Vanguard is very small and it was packed with Tom's fans. It was quite a wonderful experience hearing Tom's flugelhorn once again. Amber and two of her friends were there too. What a great way to end our week in New York!
This morning we said goodbye to Amber as she had a flight back to Minneapolis. We then cast off the lines at the Newport Marina and said goodbye to our new friends there. We enjoyed motoring by Ellis & Liberty Islands once again and going under the majestic Varanzano Bridge, the entrance to New York Harbor. A few miles further found us taking a mooring in Great Kills Harbor. After a big thunderstorm with lots of rain, everything is still and very quiet. It's pretty different from where we just spent the last week!
August 4, 2012 We are back in Port Washington, NY. This is what is called a "tarpit" harbor. You go in and you can't leave. It has everything a cruiser could need. A dinghy dock is right across the street from the supermarket, liquor store, Radio Shack, and a short walk from a laundromat and West Marine store. Another dinghy dock is at the base of Main Street that leads up the hill to a wonderful deli, two hardware stores, a few bar/restaurants, a movie theater & the library. They have 20 transient moorings here where the 1st two days are free& after that the charge is $25 a night with free water taxi service and like a lot of Long Island Sound a free pump out boat. We figure we'll wait here until Tuesday morning, the 7th, and then go through Hell's Gate to the East River and anchor behind Ellis Island. Then up to Jersey City and the Newport Marina slip we've got reserved for our week's visit to the Big Apple with both our children coming to visit. We got tickets to go see Carl's cousin, Tom Harrell & his trio play at the Village Vangaard on the 14th.
We left for a couple of days to check out City Island which we loved in 1977. Met up with members of the Harlem Yacht Club's "Old Fart's Club" and had lunch with about 6 of them in their wonderful old yacht club. They've spiffed it up since we saw it in '77. They were good friends of Toivo & Mayte Jarvi who let us use their mooring buoy back then. That was quite a couple. He was a bridge builder here and they had a great old Elko cruiser called Dream. We met them in Newburgh on the Hudson back then as they lived aboard their boat as he built bridges. Found out from the Old Fart's that the Jarvi's have both passed away. They had quite a memorial party for Toivo 2 years back when he died. They built a small Viking ship with his ashes on it and as soon as they set it free, it capsized.
July 28, 2012, We are now in Port Washington on Long Island. New Yorkers liked to honor past presidents by naming cities after them. In between, we've stopped at Huntington and Oyster Bay. The first night in Huntington, we tied up on a Coney's Marina mooring buoy next to the Prime Restaurant which had a local band play for hours & it was music we really liked! That Sunday we anchored out in Lloyd's Neck Bay and it was interesting to see all the weekend boat activity. I counted 67 boats underway at one point--a parade of boats going in and out of Huntington Harbor. We stayed for Monday due to bad thunderstorm predictions and there were seldom more than two boats underway at the same time. Oyster Bay on Tuesday led us to the "cruise night" activities downtown. All the car and motorcycle folks were there to see the 4 Ferrari's, 2 Shelby Cobras, a Ford GT 450, along with a bunch of classics. Billy Joel owns a motorcycle shop in town and it was open to show his many custom cycles, Indians, MotoGuzzi's, Royal Enfields, Harleys and others.
In Oyster Bay, we stayed on one of Oakcliff Sailing Center's moorings, thanks to Dawn Riley, who we met with her family on our 1977 Caribbean cruise when she was 13. I'll never forget asking her then what she wanted to do when she grew up and her reply was "captain an America's Cup boat." I've been forever thankful that I kept my thoughts to myself at that time, as she not only ran the America True campaign for the America's Cup but has also raced on the winning America3 (cubed) boat and the Whitbread around the world race and many others. Oakcliff Sailing Center teaches sailors to become professional racers. Classes include: match racing, fleet racing, sail repair, composite repair, engine maintenance, navigation and everything else needed to race professionally. Thursday night I was invited to crew on a 'Swedish 40' race boat and had a blast on it with a couple of the Center's young adult students called "saplings". It was hard to believe that this boat was the same length as Running Free, as it barely had room on it for the crew to maneuver around and it handled more like the E-pox-E, our 28' E Scow, than Running Free.
I can't help but make comparisons to 2011's cruise. We were constantly complaining about cold and rain then, not wearing shorts until August. We've had such heat this year that it makes it hard to do any work without getting soaked in sweat. Last year the weather ruled our sailing. We waited many days for the wind to get below 25 and the rain to stop. This year we basically go when we want, only paying attention to thunderstorms and often times motoring due to lack of wind. Last year most of our daily runs were at least 50 miles, and this year we've gone as little as five. Our next run to City Island will only be about 5 miles.
I'm happy to report that the last of our plumbing problems was fixed by simply replacing a faucet washer. I've also been able to get two coats of varnish on the companionway hatch & a dorade which lets fresh air into the v-berth. TV reception picked up as soon as we could see the Empire State building in the distance. The Big Apple is looming ever closer, and we're both getting excited about our visit there. Both daughters are coming to visit, Amber for the full week and Zoe for the weekend.
July 20,2012 As we sit in Port Jefferson while it is supposed to rain all day, I thought I would ruminate on the less attractive things about the cruising life. It's been said that "Cruising is just working on your boat in a lot of exotic places". I'm not sure if Long Island Sound and New England are exotic, but they are new to us. I've already written about our computer and steering gear problems and they have been followed by cold fresh water from our water tanks gushing out all over our engine room in Shelter Island. I was able to replace the cold water supply pipes in Sag Harbor, as I knew our plumbing was getting old and had the parts on hand. This was the same place it leaked twice last year when I replaced all the fittings with NOS (new old stock) and realized that it wasn't likely to last. We have also suffered from spurts and sputtering in our fresh water supply which has to be caused by an air leak in the low pressure side. I replaced most of these pipes and fittings in Milford. The water supply has improved, but still needs a couple of valves and one pipe to be replaced before it is all new. This morning I tried to start the engine to charge the batteries and freezer and all I got was a sickening "click" followed by a "thunk". Sinking feeling in my gut. Joyce's too. It turns out the lumpy seas we experienced yesterday crossing the Sound caused our cooling water to back up into the engine cylinders filling them up. There is an anti-siphon valve that is supposed to stop this from happening, but it hadn't been looked at for a couple of years. This made me take off the valve cover of the engine and while holding down the exhaust valves, I turned the engine by hand to "pump the water out". After putting things back together, we were very pleased to hear our old Perkins jump to life. Also buried in the same cockpit locker that I had to go in to clean out the anti-siphon valve was the autopilot brain. I took advantage of being there to spray contact cleaner over all the wire joints as our autopilot had been acting up a couple of times earlier. I've also spent time with all our padlocks and WD-40 in an effort to make them work better and longer. The good news this year is our dinghy motor is working remarkably well. John Snow at Great American Marine, who sold it to me, said it was lack of use that gave us problems last year and he's been proven right! I've had to fix a couple of water leaks in the dinghy with epoxy, however. I've been waiting since we got onboard to do our varnish work, but the weather and all the other problems we've had means this will have to wait.
We've booked a week long stay at the Newport Marina in Jersey City starting August 8th. This gives us a lot of time to get there and explore some other areas around New York City before actually hopping on the PATH subway which goes under the Hudson River to Manhattan. We look forward to our daughter, Amber, visiting us while we are there. Hopefully, daughter, Zoe, can come too. For now we are deciding our itinerary one day at a time. We're not complaining because this is one of the best lives anyone could have. While it's different from the common fantasy, we still enjoy drinks in the cockpit while the sun goes down watching the fish jump and the birds flying over.
July 18, 2012 I've been negligent in updated this blog. The New London fireworks display for OpSail on July 8 was fantastic! They had two barges across the harbor firing off fireworks in unison with music synchronized along with it. Never seen anything like it.
We're sailing (mostly motoring) steadily along the Sound & Connecticut putting in about 15 or 20 miles a day. We went into Dering Harbor in Shelter Island after hearing about it from Roger on Shadowfax on our first trip south in 1977. Shelter Island is the heart and soul of the East end of Long Island and was perfectly delightful. We took the ferry to Greenport for an afternoon. Then we took the boat to West Neck Harbor on the other side of Shelter Island for a day where Joyce collected a bag full of colorful jingle shells on Shell Beach. We were off to Sag Harbor after that where I got to work on plumbing while Joyce enjoyed the ambiance of the town and tried to chase down Ina Garten of the "Barefoot Contessa". No luck there but she found out that her home is close by in East Hampton.
From Sag Harbor, we sailed back to Connecticut and the small town of Essex. We connected with Loretta and John James, my brother in law's sister and husband, for a couple of the best meals this year: the first at the Griswold Inn that dates to 1776 and the next at the Madison Beach Club near their home. We enjoyed getting to know the James' better and appreciated their hospitality. Essex is full of history, including the British coming ashore and burning the fleet in harbor and taking all the rum in town during the war of 1812. Our next night was spent on a mooring up the Connecticut River in Hamburg Cove. It was quite peaceful & pretty but out of the way and out of cell coverage. Our next stop was at Duck Island Roads for a night and then anchoring off Charles Island near Milford, CT, where we are now tied to the Milford Landings dock. Yesterday I worked on plumbing again while Joyce took a taxi and stocked up at Costco. Today we just returned from New Haven and a day's tour of Yale University and the Peabody Museum of Natural History, the Yale Art Museum, the British Art Museum & two libraries. Tomorrow we plan on a 20 mile trip to Port Jefferson on Long Island.
July 7, 2012 When we were in Quebec and Brian Beckwith and Jan Dennis first offered to let us use their mooring in the Niantic River in 2009 we thought; fat chance. We just left their mooring on Thursday and it was a wonderful peaceful spot. From Newport we went back to Wickford to pick up our repaired computer and then to Block Island for three nights. Block Island is the poor people's Martha's Vineyard (Carl's opinion) and goes from a 900 year 'round population to well over 25,000 in the summer. We enjoyed Aldo's bakery boat (Andiamo! he would yell) that buzzed around Great Salt Pond every morning with fresh baked goods and coffee. From Block Island we went to Stonington, a short run and pleasant anchorage. From Stonington we were able to get three night's dockage at Mystic Seaport and loved the boats and shipyard based on a 1870's period. It was a wonderful way to spend the Fourth of July, our first since 2007 in the United States. We have celebrated four Canada Days (July 1) as we made our way through Canada.
Brian picked us up in Mystic and took us to see their home and meet up with Jan, and then it was a great dinner with them and friends in Niantic. Brian showed us his mooring and we picked it up after leaving the Seaport. On Friday we went back under the bridges, and anchored while we saw a demonstration of the Navy's Hoovercraft doing an amphibious landing on a nearby beach . It appeared to be a lot of taxpayers' money going for a few military toys that didn't make much sense. We are now in New London, waiting for the firework's display that follows the Operation Sail going on right now in the harbor. Docked near us is the Brazilian tall ship, Cisne Branco, the Coast Guard tall ship Eagle, along with the Amistad, Ticonderoga, Brilliant, and a number of others. It's been quite a show. We are in an anchorage with boats only about 10 feet away from us, so it is a little nerve-racking from a captain's standpoint, especially when everyone has been drinking. Tomorrow it's off to the eastern tip of Long Island to see Shelter Island and Sag Harbor.
June 26, 2012 We've been in Newport for 5 nights. As we left Bristol, after a fun day in the Herreshoff Museum, I noticed that our steering fluid was leaking out of the ram that pushes the rudder. The fluid reservoir was filled up and pumped to pressure and we motored to Newport with our fingers crossed. We found a business called Rig Pro that was able to take the ram and rebuild it on Friday, and I got the rebuilt one installed today. Tomorrow we're heading back to Wickford to pick up our onboard computer.
Newport is one of the sailingest cities in the world. Sitting on a Old Port mooring, you can watch incredible boats go by. We've seen 10 - 12 Meter America's Cup race boats, the 105 foot Whitehawk, 10 sailboats in the harbor with masts over 100 feet tall (they have red lights on top), classic boats, and of course the America's Cup 46' catamarans with solid wing masts. I'm currently in Newport's new Mariner's Center on Ann St. Pier where they offer: dinghy dock, laundry, showers, free internet connection, weather TV, ice, and friendly advice.
June 19, 2012 Running Free is back in the water and almost ready to go. We arrived in Wickford, RI, on Friday and were pleased to see her in the water. She survived the winter in pretty good shape; a lot of mildew and two gallons of diesel in the engine sump were our only surprises. I, Carl, made the mistake of mounting the computer prior to the A.I.S. which is a ship locating system. When I drilled the hole to mount the A.I.S., I drilled right through the bulkhead and into the motherboard of the computer. Grrr! It's on it's way back to CaDan in Eagan, MN, for repairs, and will require us to come back to Wickford to pick it up repaired before we leave the Bay. We met Chris and Kathy Brown at the marina who have a Alberg 37 and ended up having a fine dinner at their house last night. He went to grad school in Mpls. and enjoyed our Minnesota accents. The rental car goes back this afternoon. Tomorrow I think we will go anchor in Potter's Cove on Prudence Island, and then on to Bristol to see the Herreschoff Museum. The weather has been fine, but tomorrow it will get into the 90's.
August 27, 2011 We should have stayed in New Bedford where they have a hurricane barrier. Instead we sailed to Cuttyhunk Island in the Elizabeth Island group south of Martha's Vineyard. Spent a wonderful day there. It reminded us of Madeline Island due to it's being a summer people place and not a tourist destination. Not much to do there but relax. Climbing the hill lead us to some fabulous views of Vineyard Sound and Buzzards Bay. With Hurricane Irene predicted to come to us, we decided to sail to Wickford, RI, to try to have Running Free pulled from the water and left for the winter. We cut our travels short by a week, but thought we could see the places we missed in Narragansett Bay next year when we return. We are currently in a Marriott Inn waiting for the hurricane to pass. Runnning Free is still in the water but fully battened down for the storm. We've spent the last few days taking all the canvas off of her and getting her ready for the winter. When we arrived at the marina, we were told we would be the last on their list to haul out behind all their long term costumers. At that time the list was 60 boats long and yesterday it had grown to 100 boats and they had already hauled out close to 60. At least they have assured us that they would pull us out prior to them putting any boats back in after the hurricane passes. There's been no wind to speak of yet, but the rain has begun to fall and we are enjoying the suite we are in with air conditioning, cooking facilities, a swimming pool, etc. If the power doesn't go out, we may be able to enjoy this hurricane! Yesterday we took a taxi to get our rental car at the airport which we will drive back to Minnesota. Should be back by next Saturday. It's been a great summer on the water. Have met many good people and seen beautiful places but we are looking forward to getting home.
August 22, 2011 We ran into Judy and Aubrey on Veleda IV again in Boston and yesterday in New Bedford when we came in. It's always great to see a familiar face in a new harbor and yesterday we saw two. We heard our friend Roland Falkenstein, who we met in Bermuda in 1998 and sailed with in Grenada and St. Kitt's in 1999, was getting his (new to him) boat ready for the water in New Bedford. As it was just 20 miles from our mooring in Marion, we beat with several tacks to find him just inside the hurricane barrier. He took us to a great Portuguese restaurant where we ate for next to nothing with a $14 bottle of 2001 Portuguese wine. We loved catching up with him as well as seeing his new boat. We spent another day in Boston so we could tour Harvard and the Peabody and Natural History Museum and see the offices of "Dewey, Cheatam and Howe" from NPR's great radio show "Car Talk". It is always fun to use another cities public transit and we used a "Charlie" card to take us there on the MTC subway. We had a easy sail from Boston to Scituate Harbor where we took a buoy and bought groceries at the supermarket within walking distance to the dinghy dock. From there we sailed to Provincetown and arrived just in time to see their "Mardi Gras" parade. We thought Trinidad had a lot of strange characters in their Carnival, but P-Town was a really different sort of crowd: A combination Gay Pride Day, Mardi Gras, and Madeline Island's 4th of July parade all rolled into one. We finally got to go beachcombing at P-Town and are enjoying wearing shorts, t-shirts, and having the hatches wide open on Running Free. We saw a pilot whale as we crossed Cape Cod Bay and motored through the canal to come out the other side in a 15 to 20 knot wind right on the nose. The ride to Marion, MA, was uncomfortable but the stay at the Beverly Yacht Club was very nice. Joyce has been suffering from a summer cold and stayed below for most of the beat to New Bedford. While I don't enjoy beating that much, it was good to go under sail and let the boat sail itself as we made the 20 miles. Today we toured the historic part of New Bedford and saw the Whaling Museum. New Bedford bills itself as the town that "Lit the world" in the 19th century due to providing all the whale oil. We are smelling the fish plants again, just like in Canada, as this is the largest fishing port on the Atlantic coast in the USA. Tomorrow it looks like we're off to Cuttyhunk harbor and then to Narragansett Bay in Rhode Island. We'll be looking for a place there to keep the boat for the winter and will head home from there.
August 15, 2011 We've got our photos showing again as the cheap "PDF Maker" has been deleted and I'm now using the official trial version of Adobe to make the files. We're waiting out a rainy day in Boston after spending a week sailing down the Maine coast. After leaving North East Harbor, we sailed a long day up Penobscot Bay to Isleboro Island. The first part of the sail was very foggy, but then as we went by the home of Wooden Boat Magazine, we saw the regatta they sponsor come down the bay with around 100 wooden boats sailing right by us. It was very dramatic and challenging to stay out of their way while still getting some great photos of many of the yachts. Isleboro was the site of a Seven Seas Cruising Association "Gam" and we arrived after it was all over. We were able to see many of the boats and met Judy & Aubrey on Veleda IV in the anchorage. They had sailed from BC west and were considering closing the loop of their circumnavigation. They had been to all the places I had wanted to go in Europe and it was good to hear first hand about them. From there we sailed to Camden, ME, and spent a day rolling on a mooring as it poured rain. Took the water taxi to shore to get off the boat. Boothbay came next followed by a couple of days in Portland. We had a motor sail to the Isle of Shoals that is part Maine and part New Hampshire and spent a peaceful night on a free mooring next to the big religious retreat located there. The next day brought us into Gloucester which is one of the few working fishing ports in New England& home to Gordon's Seafood. We spent the afternoon sightseeing and found a great Italian delicatessen to enhance our larder. Saturday brought us to Constitution Marina in Boston where we've paid for 4 nights. We spent the afternoon exploring the USS Constitution, (Old Ironsides) and the Charleston Naval yard with its history and WW II destroyer Cassine. We walked the Freedom Trail yesterday from Bunker Hill monument (close to the marina) all the way to Boston Commons. It was a day filled with colonial history after seeing North Church, Paul Revere's home, Faneuil Hall, Quincy Market and the North End's Italian festival honoring one of their saints.
August 4, 2011 We've just been able to replace the programs we lost when the laptop failed us that enable us to update this website. We left Brooklyn and sailed to Shelburne NS. where we spent a couple of nights waiting for good weather. We met a number of other sailors and had a good time in the yacht club bar trading sailing stories, drinking beer and enjoying great burgers cooked by the volunteers that run the club. From there we sailed around Cape Sable up to the Tusker Islands. We anchored with the help of Adrian who owned a house nearby and invited us over to his party the next day. As we were going to leave at four in the afternoon, I declined the invitation and Joyce went to the party that turned out to be a wedding reception for one of Adrian's relatives. The whole family was Acadian, so Joyce was able to enjoy the mix of French and English that was spoken, while trying to keep all the family ties straight.
The sail to Maine started off wing and wing in light winds, and actually allowed us to sail virtually the whole way without the motor. As the winds increased, Joyce got me up to reef the mizzen and I noticed some sheet lightening in the distance. At the change of watch, the lightning was getting more frequent with the winds at 18 to 22 knots. Within a couple of hours the wind came around to a beat, and then a beam reach. The storm came on fast with the wind going to a broad reach and gusting over 30 knots with lightning and thunder all around. I just held on and Running Free sailed herself beautifully throughout the entire storm period. After the storm the wind went back to ten to fifteen knots and we had a good sail in the fog up to Mount Desert Island Maine. Getting into Bar Harbor was a little frustrating as the Mainiacs tend to "farm' their lobsters by putting pots all over and feeding them until they are large enough to keep. We were dodging lobster pot buoys in the fog, which can be really challenging, trying to keep your course,
We cleared customs in Bar Harbor and stayed one night on a rolly mooring. The tourists and bustle of the city were a little much for us, so the next day we brought the boat around to Northeast Harbor, where we are right now. Tom and Rose have sent us our mail, which should arrive tomorrow. Today we hiked up the South Bubble Mountain in Acadia National Park and had lunch at Jordan Pond with their famous popovers. Tonight they have live music in the park that we plan to see.
July 28, 2011. We're in Brooklyn, NS. It's a small town on the Mersey River across from Liverpool. We've had an enjoyable run from Halifax, anchoring the first night in Indian Harbour where we saw a derelict "WetSnail" 32 named Lady Jayne, from St. Paul, MN, at anchor. We are very curious as to who and why it is there. Our next night found us in Lunenburg where we made true 2 sayings about cruising: 1.) Cruising is just working on your boat in a lot of exotic places, and 2.) The difference between being a tourist and a sailor is that tourists can only look at the scene, while sailors are a part of it. I changed oil and found that our alternator had a big crack in the mounting which explained why we were going through belts too frequently. Our laptop also died leaving us with no way to update the website and organize photos. The helpfulness of the Nova Scotians came through, however, and we were able to get the alternator rebuilt in a day and a half, and the computer hard drive replaced in two days. Thanks to Danny's Computer Patch & Lunenburg Automotive Parts. We did lose most of our info on the hard drive and only were able to save about 400 photos.
We had dinner with John Steele, who we met in the Caribbean in 1999 and got a tour of his beautiful Bristol Channel Pilot Schooner, Papa 1, and the new Blue Nose II, both of which he built and is building through his Covey Island Boatworks (http://www.coveyisland.com/built.php). Last night we anchored in the Folly Island Channel, next to Covey Island (where Steele first started his boatbuilding business) and met up with Rod and Gail Fraser who were going the other direction. Gail and Rod had been advising us through e-mails on places to see and go to and it was great to have a gourmet dinner with them on their classy 41' sailboat Nor'easter. We met them last year in the Bras d'Or Lakes in Cape Breton. Tonight we've signed up for dinner at the marina where Wayne, the manager, cooks a meal every night. I think we will be off to Shelburne tomorrow.
July 22, 2011 . We've been enjoying the cosmopolitan city of Halifax for the last three days. The boat is cleaned of all the salt and full of fuel, food and charts. We saw the Harry Potter movie yesterday and Joyce is taking care of laundry right now. Life is good again. Tomorrow we're off to Indian Harbour and then Chester and Lunenburg. These should be runs that can be made in a morning each, just the right kind of cruising.
We left Louisbourg , Cape Breton, early in the morning on the 13th and made Canso, on the NE tip of Nova Scotia, by dinner time. It feels good to be south of Cape Breton. We had to wait three days in Canso for weather that allowed us to run to Liscomb Harbour. Liscomb Lodge there is a wonderful resort up the river from the Atlantic where we had a good dinner ashore and enjoyed a completely calm night of rest at their dock. From Liscomb, we motored to an anchorage north of Sober Island near Sheet Harbour . We got stuck there for two days with high winds out of the southwest and finally were able to make Halifax , motorsailing in light winds the whole way.
Currently we're at the Armdale Yacht Club up the Northwest Arm of Halifax Harbour. It is a large club built on the site of a prison that was used to hold the French during the Napoleonic wars and the Americans during the War of 1812. Rob Beck, one of the members, has taken us under his wing and helped us find what we need in the city. The weather has finally turned nice, and I have actually worn shorts for the first few days of the entire time I've been aboard this year.
July 12, 2011. We are currently waiting for weather to change again. We're sitting in Louisbourg Harbour in Nova Scotia . The wind is SW 15 gusting 30 (the direction we want to go). We arrived after a long 28 hour passage from St. Pierre . As we got closer, the fog closed in on us so that by the time we got to the harbor entrance, visibility was down to about 100 yards. The autopilot got us past the rocks, using the Fugawi navigation software. When we were able to see the government wharf, I took it off autopilot and tried to steer with the wheel, only to not have the rudder turn. Realizing that the steering was gone, I got the anchor down just as Joyce waved the Coast Guard boat over & they came alongside. They towed us to the "recreational wharf" where we've been these last three days.
Sunday saw us visiting the Fortress of Louisbourg which was the French North American stronghold from 1713 to 1748. It was well defended from the sea, so the British took it in 1745 and 1748 by attacking it from the land (same tactics they won Quebec with). When the coal mines in Cape Breton closed down in the 60's, the Canadians decided to employ the miners by having them rebuild the fortress. They have rebuilt about a quarter of the total area and it is quite a place. It's manned by bilingual actors dressed in costumes of 1747. We enjoyed our visit tremendously, partly because it was the second sunny day ashore that Joyce had seen since arriving in NFLD on June 24th and only my fifth.
Monday had me chasing down the hydraulic leak in the steering (I couldn't find it). I filled it with fluid, bled the system, and everything seems to be working fine now. I also re-bedded the spray hood in hopes that it would fix the leak we have been experiencing in the aft cabin. We enjoyed a Celtic Ceiligh (kaylee) show last night at the Playhouse. Fine fiddling, good entertainment & free tea & oat cakes during intermission. Tuesday morning we warped the boat (in the rain) from the windward side of the dock to the leeward side after the lobster boats had left so that we weren't being blown into the dock with the waves slapping us silly with their noise. We've had a lazy day after that. My big accomplishment was having Donna from the RV park drive me five miles out of town to the only working ATM at a Irving Gas Station. You know you're in the middle of nowhere in Canada when there are no ATM's and no Tim Horton's.
July 6, 2011 While Running Free didn't make it to Europe, we made it to France--St. Pierre, that is. It's just south of Newfoundland. We're enjoying the French ambiance: fresh baguettes, croissants, and other baked goods, cheap French wine, internet access at the dock with good fresh water. I've just been running back and forth across the street to the gas station filling up our jerry cans with diesel so we can go on to Nova Scotia. Unlike Canada, they don't print a lot of English here but a lot of the population speaks it somewhat, so it is easy to find our way around. It's probably a good thing we didn't end up in Europe as the Euro is at $1.45 and everything is very expensive.
We had two uncomfortable passages to get here as the wind seems to keep out of the southwest, which is the direction we have to go. We motored into 10 to 15 knot winds, right on the nose, and one meter seas. Our trusty Perkins engine just keeps on going (knock on wood).
We had our dinner at the hotel in Trepassey which was a disappointment, considering the last time I ate there was with Larry & Judy when it was so good. Left that night in the fog and came into St. Lawrence about noon in the fog. Right after a short nap, we heard the honking of a horn right outside and found Bill Molloy ready to lend us his truck for the afternoon. Bill had taken Larry lobstering the last time Running Free was in St. Lawrence and it was great to see a friendly face again. We drove up the dirt roads surrounding the town and got a good look at 'backwoods' Newfoundland . Bill took us home and let Joyce use their internet connection and we met Donna, Bill's wife, and friend, Phyllis, and their three pet beagles. Bill claims that he didn't learn to walk until he was seven because he was so cute the women wouldn't put him down. One of the highpoints of cruising is that you throw yourself on the mercy of strangers and find out how wonderful people can be.
It looks like we will leave St. Pierre either Friday or Saturday for Louisbourg, Cape Breton, a 170 mile passage, as we may get favorable winds then. We are currently on the windward side of the dock, getting pushed into the dock, but with 2 inch seas, it's not a bad place to be.
July 2, 2011 A lot has happened since the last update. Running Free is now sitting on the dock in Trepassey once again. We had the mainsail repaired by Milton of United Sail Makers in St. John's, a third generation sail maker. He also repaired our dodger window. Joyce joined the boat while we were at the Royal Newfoundland Yacht Club in Conception Bay. After getting two new pairs of glasses and re-provisioning, we had a good sail to St. John's for one night where we meet Sebastian on a Dutch boat and another French boat, the first going to Iceland the second to Greenland prior to Iceland. Quite an adventurous lot! I somehow had no desire at all to do either.
After leaving St. John's we sailed to Fermeuse. On the way I saw what appeared to be someone making smoke signals to us on land about twenty feet above sea level next to a waterfall. A puff went up twenty or more feet in the air every 10 seconds. On checking the chart, we saw it was called the "Spouter" the most dramatic blowhole I have ever seen. We've seen several minke whales, had a pod of dolphins around us and have seen multitudes of puffins and a few seals. We spent a chilly night at Formeuse and then had a nice day sail to Trepassey, where Wayne, the Harbormaster, greeted us at the dock once again. We were in luck, as a crab boat came in that night and we were again treated to several free pounds of crab.
It's a pleasure having Joyce back on board as everything is now back in place, and she knows just what to do while maneuvering and making sail. Not to mention the good cooking I missed while being a bachelor at the RNYC.
The sun is out with the wind blowing in the higher teens from the northwest. We were thinking of leaving tonight on an overnight to St Lawrence, but the weather has to calm down considerably before we will do that. It is predicted to be out of the west until Monday, when it will be "light", so we may be stuck here until then. Watch the SPOT under "Find Us" to see the results.
June 17, 2011 . This is a hard entry to write, as I am undergoing many emotions and I have never been a very emotional sort of person: First is the ending of the dream to cruise Europe on Running Free, then in no particular order are; turning Running Free from a beloved second home to a crowded space occupied by people who don't know each other very well and having to re-organize everything to fit in, to turning Running Free into a wet heaving mess, followed by a crippling loss of the mainsail, a loss of the ability to set the staysail, some conflicts between captain Carl and captain Chris and not being able to see clearly as my glasses were overboard.
The story starts on Thursday June 9 when I checked the weather predictions and saw that for the next week there was only one small spot, any where near where we would be going, that had winds of over 30 knots, and another small one that showed winds forward of the beam. Both spots were predicted to last for less than 4 hours. We topped up the water tanks with the sweet water from the brewery, finished changing the boat from a coastal cruiser to an offshore one, got a good dinner, a good night's sleep, and left on the high tide Friday early afternoon, (ignoring that leave on a Friday superstition). We had light southerly winds and sailed slowly Friday night into Saturday. The winds clocked to the west and we were able to sail wing and wing through most of Saturday night. Sunday morning the winds continued to clock to the north and as they picked up into the east by Sunday noon . According to our GPS we had a 152 mile run our first 24 hours and over 130 miles our second. Not bad for a cruising boat.
We had started out with a full main and a reefed mizzen, and Sunday afternoon as the winds exceeded 25 knots we put a reef in the main and were on a beat to weather. We were no longer sailing our great circle route and were making the best course we could. As the wind changed we tacked a couple of times, and then as the wind increased to consistently over 30 we lowered the mizzen. When the wind lowered to below 20, the reef came out of the main, and the wind went back up to the 30's quite soon thereafter.
Water temperature this whole time never got above 5 C or 40 F and it was raining, misting, pouring rain, or fog the entire time. Seas were from 2 to 4 meters. The mizzen mast had a leak causing water to run down it into the cabin and across the cabin sole. The boat was tightly sealed down below and condensation caused almost everything to become from moist to soaking. The furnace was giving off fumes that stunk and stung the eyes. I was the only one of the crew able to go off watch and get into something resembling dry, (my feet were never dry). The rest of the crew lived in their wet gear. Alan got sea sick during the beat and was pretty well incapacitated for some time. With Catherine on watch, I went below and had Chris dash by me with his hands over his mouth, into the head, for his first time being seasick. Both seasick sailors had scopolamine patches.
I went back on deck and decided to make our ride a little more comfortable by heading further downwind and off course to the south. As Running Free was turning a large wave slapped us around much faster than I wanted, and the main gibed across the boat with the boom raising high, both luffs shredded up to the boom lash hole. The port side sail went forward of the mast when the outhaul let go. At that time it appeared that the entire sail was a goner. (Unless you know the Freedom 40 rig, this may not make any sense.) We got the motor going, and with Catherine at the helm, I was able to get the remains of the sail on board and secured. We then got the storm staysail set and headed south, somewhat more comfortably for the next day, Monday.
My exertions wiped me out and as I recovered down below, Chris and Catherine kept everything under control. It was during this time, under our tiny storm staysail that we covered approximately 180 miles in 24 hours; with a top boat speed of just over 10 knots and the top wind gust of just over 50 knots. Seas were from 3 to 6 meters with breakers. While down below, I made the decision to return to North America and forget about the idea of cruising Europe on Running Free.
In order to make the course change to get us home, it was necessary to gybe the staysail. My memory of this is a little foggy, (in fact the whole voyage could be remembered differently by my crew). I got the lazy sheet rigged prior to rigging the starboard running backstay, and before I knew it, the sheet bashed my head knocking my glasses lens overboard. The flaying sheet knocked the starboard backstay free while fouling the flag halyard on it. It also knocked out a window in the dodger. With the motor going and the staysail down, we got the portside backstay over to the starboard and raised the staysail, only to have its halyard get entangled with the backstay that was already flying free. This left the staysail stuck half up, but at least on the right side of the boat. This allowed us to set course back to Newfoundland , and we got the motor going as the wind died down Monday night.
The trip back consisted of figuring out if we had enough fuel to get home, as well as two trips partway up the mizzen mast. We were able, after the second, to get the mess cleared up. This relieved me because winds were expected to increase Wednesday morning and knowing we could sail under staysail added a measure of security. On Tuesday, Catherine mentioned that she thought the main was ok above the reef points, and couldn't we sail under reefed main? After some investigation, it turned out she was right. We got the main up and motor sailed all the way into Conception Bay Wednesday morning in winds of 10 to 20. While lowering the main to go into port, the sail slapped my head, knocking my dark glasses into the drink.
Running Free now has a slip at the Royal Newfoundland Yacht Club. My crew left Wednesday night as 38 knot winds howled outside. I am awaiting Joyce, who arrives on the 23rd. The mainsail is at the sail makers, who said it didn't look very bad and would be repaired within a week. Conception Bay has the best weather in Newfoundland, the excess food has been sent to the local food bank, down below is slowly drying out, the laundry is done, I should have new glasses this afternoon, and life is, once again, good.
Statistics;
668.5 Miles traveled through the water
Average Speed 5.6 knots through the water
Top Boat Speed 10.01 knots
Top Wind gust 50.1 knots
Fresh water used 35 gallons
Highest water temperature: 40F, 5C
Lowest water temperature: 33F, 1C
June 6, 2011 We are in Quidi Vidi waiting for weather for the crossing. We reached St. John's after a long run from Trepassey, arriving at 10:30 in the evening. Communicating with St. John's traffic control was an experience arriving in the dark on the 1st. We went to the head of the harbor, where the guide said that electricity was available, (unlike the floating docks), only to find out in the morning that the electricity wasn't on for another 4 months. David the Harbormaster told us we could connect at the floating docks so we moved there in the morning. When we got to the floating docks we met Jay and Mary Lou on "Screech" from Maine. They had left their boat in Newfoundland over the winter and had driven up to take it south. It worked out that Larry and Judy were able to drive Screech's car to Maine and solved the problem of how to get Larry and Judy back to their car in Dundee. Larry and Judy drove me to the airport to pick up a rental car, Catherine and Chris and later Alan, my new crew. After spending the next morning shopping, we got back to the boat and met Dave Fong on a beautiful Baba 40. Dave invited Running Free and Screech to his brewery in Quidi Vidi for beers at 4, which we, of course agreed to. Dave then invited us to use his slip next to the brewery as his boat was being hauled for work. Quidi Vidi is a tight little harbor, with great fresh water and a calm, wind free space. Leaving St. John's was trying, as as soon as we had slipped our lines, in accordance with the harbor control, the "Athabasca" one of Canada's destroyers, decided to leave on maneuvers and another ship was hovering in the harbor waiting for the slip to free up. We, of course, couldn't argue with a destroyer, and ended up putting a new scratch in the gel coat as we maneuvered out of it's way. In this process, both ships and traffic control were communicating with us and at one point I got confused and asked who had just communicated. The answer was "the ugly ship behind you". With visibility of less than a mile we followed the Athabasca out of the harbor as they ended up having to stop and reverse to keep from hitting shore. I believe they were training new crew as their maneuver seemed most unprofessional. The entrance to Quidi Vidi left rocks on both sides of Running Free about five or ten feet away, making it a big relief to actually get in. We now have full fuel and water tanks, a full larder and only need winds out of the west to proceed. Also in the harbor is Sean Moriarity, who plans on rowing to Ireland. It will be interesting to see if we see him again.
May 30, 2011 Currently Running Free is tied to the wharf in Trepassey while we have 30 knots of winds howling outside with fog and rain. We made it in two jumps: Fortune to St. Lawrence and St. Lawrence to Trepassey. We've been greatly enjoying the hospitality of the Newfoundlanders: while in St. Lawrence we met Bill who took Larry out Lobstering early in the am. When they arrived back with 7 lobsters, Bill gave us three for supper. Last night the Trepassey crab fleet came into the wharf to unload and we enjoyed a fresh crab dinner gratis from the fish harvesters. I thought this was rather amazing as we were much more in their way than anything else. The friendliness of this rock continues to amaze. Enjoying a lay day yesterday after the 17 hour sail from St. Lawrence we took a 7 mile hike up to the lighthouse and back and couldn't see much due to the fog. It felt real good to stretch our legs however. We're hoping to have two days of good weather sometime in the next week so we can take our comfort getting to St. John's. With luck our next stop will be at Fermeuse just around Cape Race. With out luck we may be forced to overnight to St. John's in one sail of about 85 miles. I'm hoping to get to the library this afternoon to post this update and don't think I will be able to update again until St. Johns.
May 25, 2011 I'm on my way with Larry Carpenter and Judy Taylor as crew. I have been lazy in updating this site as Larry has done such a good job on his site: www.allegro.mncarpenters.net . Please jump to it to see the story and a lot of great photos by jumping to Larry's links. Running Free is currently in Fortune Harbour Newfoundland tied to the wall waiting for the wind to go down and the rain to stop. We hope to jump to either St. Lawrence or Trepassey tomorrow morning: St. Lawrence is about 45 miles Trepassey is about 130 miles. We will make the decision when we get to St. Lawrence. We've had two overnight passages so far; from Baddeck to LaPoile included a great wing and wing run down the Great Bras d' Or and an 11 knot over the ground romp through the passage from Great Bras d' Or to the Cabot Straight, (the buoys were at a 45 degree angle). On arriving in LaPoile we noticed our main mast had rotated 90 degrees due to the bolt coming out of the mast at the base. We had also ripped the sail when the clew knot came out. The fix was much easier than first imagined and we proceeded to Doctor Harbour just past Burgeo after two days. Doctor's was a perfectly protected, deserted anchorage mindful of the North Channel or Northern Lake Superior, loon calls included. The next stop was Francois (franzway) Harbour, like LaPoile an "outport" with no roads or cars. We hiked to the top of the mountain overlooking the harbor and saw the waterfalls that feed the waterfalls that ran right through "downtown". This is one of the most spectacular towns I have ever been in. We were able to purchase live lobster there for $5. a pound and had a great feast, prior to being told the dock we were on was condemned and likely to be very uncomfortable that night. We moved Running Free to tie to the ferry boat before deciding that our best course of action was to leave that evening to get to Fortune.
May 7, 2011 We're preparing for Carl and Joyce's longest separation since they got married as Carl leaves for Cape Breton , Nova Scotia , on Monday. An earlier trip to our boat, Running Free, brought new batteries, solar cells and other supplies to the boat. Carl also rewired the mizzen mast and patched the bottom paint while he was there. Judy Taylor and Larry Carpenter are driving up on the 12th to help Carl move the boat up to St. John's , Newfoundland . On June 4th, Catherine McArthur , Chris Belanger and Alan Olson fly in for the crossing to Ireland . Judy, Larry and Alan are fellow Minnesotans we have known for years, while we met Catherine two years ago in the Thousand Islands area on our way out of the St. Lawrence Seaway . Chris is a friend of Catherine's and they are both Canadians. The Atlantic crossing should take 12-14 days and Running Free will sail about 1,700 miles. Joyce will be working at her school until June 8. She& Al's wife, Beth Olson, will fly to Ireland to join Running Free the 3rd or 4th week in June.
<![if !word & !ppt & !excel & !vml]>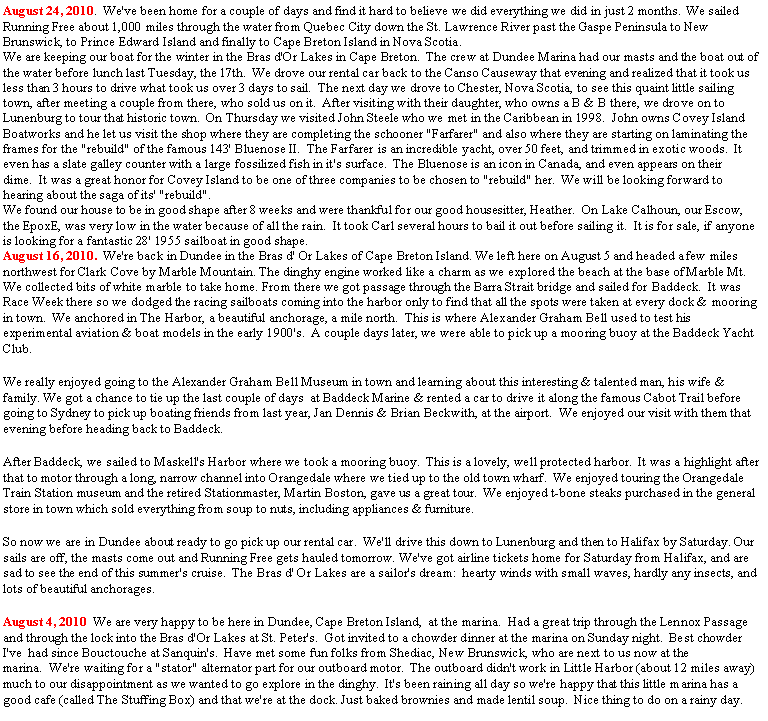 <![endif]>
<![if !word & !ppt & !excel & !vml]>

<![endif]>
<![if !word & !ppt & !excel & !vml]>

<![endif]>
July 29, 2010 We're in Pictou, Nova Scotia. It's raining outside with the wind is gusting to 35 knots. It's very nice to be in a snug marina. This is where the first Scottish emigrants reached Canada in 1773. A replica of the historic tall ship "Hector" is moored right by us. We've revised our plans and decided against going to the Iles de la Madeleine because of the time we have remaining and the potential for a couple of grueling passages. We finally had a passage getting here from Charlottetown, PEI, where we only used the engine for getting out of and into the harbors. We averaged over 6 knots and were happy to go "wing and wing" the whole way. As we came into Pictou harbor, a small screw came out of our steering pedestal that resulted in locking the transmission in reverse. When we started the engine to come into harbor to take the sails down, we were going over 7 knots and it was a little traumatic. Imagine putting your car into reverse at 30 miles per hour. Carl managed to diagnose and fix the problem, while Joyce sailed through the narrow entrance into Pictou. This lifestyle does contain its quota of stress. We toured the Grohmann Knife Factory, the lobster hatchery and the fishery museum here yesterday. Hopefully tomorrow the weather will get better so that we can sail the 33 miles east to Ballantyne's Cove.
July 25,.2010 We are currently in Charlottetown on Prince Edward Island, the birthplace of Canada in 1864. It is the provincial capitol of PEI with a population of 39,000. It's been quite a journey since our last entry. We left Chandler, Quebec, at 7pm on the 16th after a fine dinner. We got about 2 hours of good weather before the wind came on our face (right where we wanted to go) and the waves got big. Carl got seasick twice on his watch while Joyce braved it out down below. 22 hours later, after sailing over 130 miles to go 80, we entered into Miramichi Bay and anchored behind an island. We had a beer, Carl took a shower, and right as Joyce was showering, a line squall hit dragging our anchor from 20 feet of water to over 40 before Carl was able to get it reset. We spent a day recuperating and just after leaving the anchorage our alternator belt decided to break. We quickly dropped anchor & Carl put on a new one. We made our way to Bouctouche and joined up there with Gary and Sheila Steeves, who we met while up the Saguenay Fjord. They took us on errands and had us over to their cottage for dinner. Joyce got to do laundry there. We spent a couple of days there prior to a passage to Summerside, PEI, and then another day's passage dead into the wind to Charlottetown where we arrived late aft. to see how PEI boaters enjoy their Saturday nights. After a switch of marinas this morning, we are peacefully enjoying catching up while it rains outside.
July 16,2010 We're awaiting good weather to make the almost 100 mile passage to New Brunswick. We are contemplating leaving this pm for a night passage and are hoping for the south wind to leave.
July 9, 2010 Carl & I are enjoying being on our boat again and traveling the St. Lawrence River. We are in a quaint town called Matane at their marina. It's on the south shore and is a little warmer this side with less currents & tides. We've seen a number of belugas (in the Saguenay Fjord especially) and today on our sail, we saw some dolphins. Looking forward to seeing some bigger whales. Tomorrow we'll head about 45 miles East to Ste. Anne de Mont. We hear that there is a good seafood restaurant there by the marina. The food has been wonderful. There is no recession in Quebec. Very friendly people and they put up with my not so good French.
July 6,2010 We are back in Tadoussac. It was socked in with fog the whole time we were up the Saguenay Fjord. We got out just in time. We had thick fog in Anse Ste. Jean this a.m. and when it lifted around 10, we left for this village again. Sure enough the fog was still here. Good thing we'd been here before but it was still hairy getting into the harbor.
<![if !word & !ppt & !excel & !vml]>

<![endif]>
<![if !word & !ppt & !excel & !vml]>

<![endif]>
July 2,2010 We're adventuring again! Currently we are in Tadoussac waiting for two hours after low tide to go up the Saguenay River to Cap Eternite. The tidal currents will only rule our life for a couple more days. The run from Quebec to Cap a L'Aigle was 72 miles that we averaged 8 knots for while seeing up to 13 knots on the GPS due to the current. Yesterday from Cap a L'Aigle to here we had the wind directly behind us gusting to 25 knots, quite a run! We saw our first whales (belugas) and seals but the rules of the sanctuary are such that "if you can see them, you are probably too close. They want us to keep at least 400 meters from any whale! Joyce speaks basic French to get by and many Quebecois speak what English they know. We have had some interesting and fun conversations & have met some lovely people along the way. The food has been very good & fun to try. Poutine (french fries covered with brown gravy with white cheese curds), fresh mussels steamed in white wine& herbs, duck confit panini & canneloni & smoked meat (pastrami?) are some of the foods we've tried. Along with that, plenty of fresh baguettes & croissants!
June 27, 2010 We've had a busy time since arriving Tuesday. Yacht Club de Quebec has been one great place to stay and we have been honored by them flying Old Glory while we've been here. We are reminded of the reasons we cruise when we meet incredible people along the way. Thanks to Denis who lifted Carl up the mast to retrieve a lost halyard, to Lilly who led us in our rental car to Costco for supplies thru over an hour in traffic, and to Peter who drove us back from returning the rental car. We have also enjoyed the company of Bruno, Claire, and our friends from last year, Joe and Joan, who we had a great dinner and nighttime tour of Quebec last night. Running Free is back in seagoing condition after replacing one bilge pump, rebuilding the other one, fixing an air leak in our fresh water system, replacing the head sink drain hose (that could have sunk us). Today sees us off to the marina in old town Quebec prior to travel down the river.
Spring 2010 Finds Carl suddenly retired in October, looking forward to getting back to Quebec and Running Free on June 22nd. We have paper charts to the Bras D' Or Lakes in Cape Breton Island, NS. New equipment this year is limited to a AIS (automatic identification system) that should help us identify the larger vessels around us. We will update our site as time and internet connections allow.
August 6, 2009 We're back in Minneapolis as of July 25th. We didn't take the Amtrak back due to Canada 's train strike so we flew back instead. Carl's back at work& Joyce is enjoying a few more days until the STATE FAIR and then school starts. Tom & Rose & Jim & Ellie, the two sailing couples who lived in our home last month, left everything ship shape for our return. Jim & Ellie are now back on their boat Meta Fog in Nova Scotia & Tom & Rose are now house sitting for Larry Carpenter & Judy Taylor who are sailing their boat in Lake Superior this month. Links to their sailing websites are listed above.
Running Free has been left in the hands of Francois Lemelin and the Yacht Club de Quebec. While in Quebec City we benefited tremendously from the friendship of Joe Mainguy and his wife, Joan Murphy, who are bi-lingual and Quebec natives. With Joe's help translating the French conversations in the Custom's office, and with Francois in attendance too, we were able to get our proper permits to leave the boat in Quebec over the winter.
July 19, 2009 Quebec City is magical! It is so historic and beautiful. We left Trois Rivieres on Friday at 1:30 p.m. and had a 80 mile motor down river to Quebec City . We arrived at low tide (as suggested) at 10:30p.m. We got into the Marina de Quebec's outer basin and within a few minutes the lockmaster opened the lock for us. It was a strange, almost surreal, experience though as the city was showing a historical video which was projected all along the numerous grain elevators next to the marina. The weird music that went with the video added to the strangeness. There were people lined up along the lock and the whole length of the marina walls. So, we're in the lock holding the boat steady as she rose up and our boating friend, Brian Beckwith, shouted to us from above the lock "ahoy, Running Free!" It was music to our ears hearing his voice again. They got here a day ahead of us on their boat " Roving Seas ". We were pretty exhausted after such a long day of motoring with the East winds getting stronger as we got closer to Quebec City .
We got out of the lock and it's DARK& we're coming into a place we've never been to. Tons of people so close to us we could touch them as we slowly motored along the wall to the far end of the marina. It was a good thing the dock boy had a flashlight that he motioned to us with. Bless him and "merci" for being there at our designated slip and catching our lines as by that time it had really started to blow. We turned off our good old Perkins (very hot) engine and drank beers in celebration of getting to Quebec City , our last destination of the summer. We will now work on getting the boat stored here for the winter& hope to take the train back to Minneapolis so that Carl can get back to work by August 3. Au revoir! Joyce & Carl
July 17th 2009 We've had an incredible time in Montreal . The Port d'Escale Marina is right below the main tourist street, Jacques Cartier, in old town, behind the Circusdu Soleil tents. The 2nd day there, after we finished a great lunch of mussels and were walking home, we ran into our marina neighbors, Brian & Jan, walking down the street. We first met this couple in the Ogdensburg, NY, marina. What other type of lifestyle allows this familiarity in unfamiliar places? After three nights of action packed Montreal , we scooted 25 miles and stayed a calm night at anchor near a quaint village called Contrecoeur. We are now in Trois-Rivieres and are not looking forward to tomorrow and our ten hour day through the Richelieu Rapids to Quebec . City. We have to time the tide and may get in well after dark. The best time to get into Quebec City is at low tide, but the marina we'll be staying at has a lock that can only be entered at high tide. That could mean a l o n g wait before we'll finally be secure.
The weather has been unusually cool and I've regretted not bringing my long underwear. We seem to experience rain almost every day. Our first run in with "French Canada" was anchoring at Valleyfield when they were holding the hydroplane races. It rained all day and the races were called two hours early, we were able to get into town because of this. After returning to the boat, we looked across the channel to see hundreds of tents set up for the celebrations. Right after sunset the thunderstorm hit, winds to 41 knots, lightning and lots of rain. I sat anchor watch for an hour or so in the dark. The next morning, we didn't see a single tent set up.
We'll try to post some photos in the next couple of days, once we're secure in Quebec City . Joyce will get her stitches out while there also. Her hand is healing well after that nasty docking accident in Clayton , NY . Au revoir!
July 9th 2009 spent all afternoon visiting Upper Canada Village , near Crysler Park after clearing into Canada this noon . This is a collection of buildings saved from the flooding of the St. Lawrence Seaway turned into a living village circa 1866. Our passage from Oswego to Cape Vincent averaged 7.7 knots with 8 to 10 foot seas, exciting but quite uncomfortable. The 1,000 Islands reminded us of the North Channel with cabins, castles and homes all over the place. The Antique Boat Museum was a special treat the day after spending an afternoon getting Joyce's hand stitched up. She caught it between a cleat and a mooring line and it meant an ambulance trip 20 miles upriver to Alexandria Bay 's ER. A tour of the Boldt Castle and Yachthouse later in Alex Bay was an interesting afternoon for us before leaving the 1,000 Islands for "The River".
July 4, 2009 We're cruising again! We left Sodus Bay on July 3, after hearing that they celebrate the 4th on the 3rd. We wanted to see fireworks on the 4th so are now in Oswego NY only to find out they celebrate the 4th on the 5th. We leave shortly for Cape Vincent NY and hope to see fireworks tonight.
We arrived in Rochester on Saturday and were able to paint the bottom and get ready for launching on Monday. The boat came through the winter fine down below, but was horribly mildewed on deck. While installing our hot water heater I found the throttle cable was in shreds, and we delayed departure a day while a new one was ordered and then replaced. Between rain showers we were able to motor to Sodus Bay and had a great Prime Rib dinner at Pappa Joes for $11. Leaving Sodus Bay yesterday we flew at 7.2 knot average to Oswego in winds just over 20 knots. We're currently tied to the quay there and after breakfast will leave in winds of 9 to11 gusting 18.
August 28, 2008 We're Home!! Was it all a dream? Actually, coming home to a broken water heater, a stack of mail 2 feet high, and a lawn and garden that are totally parched makes it all feel too real. Running Free is on the hard in Rochester , NY . We pulled the broken water heater out (it went about the same time as the one at home, go figure), un bent the sails, cleaned, packed and winterized before renting a Buick to drive home.
We spent our last days in Canada with our new Canadian friends. Thank you, Bruce and Lila, for the great time you showed us at your house and the Port Credit Yacht Club in Mississauga . Thank you, Kim and Sandy, in Whitby , for the great meal at Kim's restaurant and the hospitality you showed us at your home.
All in all it was a great summer. The wind was behind us when it blew hard, we never had to beat into it the whole summer. The worst negatives were the cold and fog in Lake Superior and the day we got hit by a fly hatch in Lake Huron . We were covered in small fish flies! The poor economy kept many boaters off the water, so we never had trouble finding a slip, or a good place to drop the hook. Each lake showed a distinct personality which was fun to discover: Superior =solitude, Huron=wilderness, Erie =parties, Ontario =yacht clubs and cosmopolitanism. We are looking forward to learning about Quebec and the Maritimes next year.
August 9, 2008 We're in Toronto . The sailings been great, the weather cool. The sail from Port Dalhousie averaged 7.2 knots. Port Dalhousie is where the next GLCC Rendezvous will be and it should be a dynamite location. Our computer's USB drives are all acting funky, sometimes working and sometimes not. This has been very frustrating, and will require some rethinking for next year. We are enjoying our third stay at Hanlon's Point Marina in the Harbour Islands of Toronto . We're meeting Sandy Nichol at The St. Lawrence Market. We met Sandy 10 years ago on our Trinidad cruise and it will be interesting to hear about her later adventures in China .
August 4, 2008 We've been moving fast. We're in Dunkirk , NY , in Lake Erie . Since leaving Prudy & Charlie's, we've stayed a night at the Bayview Yacht Club in Detroit, Put in Bay in the middle of western Lake Erie (I didn't see one drunk and don't know whether to be happy or disappointed), Vermilion, Ohio the next day, followed by Cleveland, where we stayed one night at the Edgewater Yacht Club, and the next at the Rock and Roll Hall of Fame. We were there when they opened, and they almost had to kick Joyce out at closing. It's a fun place, once you realize it's not the artifacts, but the listening that makes it great. Geneva on the Lake was the next stop. It was a little bit like the twilight zone in it's '50's feel, small cabins for rent, shops & food stalls more like a Mexican town than Ohio. We arrived in Erie, PA, just in time for the Annual Corn Roast at the Presque Isle Yacht Club and spent a couple of nights there seeing the sights. Tonight we're in Dunkirk and will leave for Fort Colborne , Ontario , tomorrow. The next day we should go through the Welland Canal which will take us down Niagara falls in eight easy stages (locks). From there it's on to Toronto . It's looking like we'll leave the boat in Lake Ontario for the winter. Internet connectivity has become more of a problem so our updates haven't been as frequent as hoped. Hope to have Lake Erie pictures posted soon.
July 25, 2008 It's great to renew old friendships. We are currently tied up to Prudy and Charlie Billiu's dock in their backyard near Metro Beach just off Lake St. Clair . Prudy showed Joyce how to bake a cake in a pressure cooker over an alcohol stove in Annapolis in 1977. We stayed here on our 1998 trip as well, (see our Wisconsin to Maryland pictures). We'll be hearing the Detroit Symphony tonight with them at Metro Beach and hope to leave on Sunday if our mail gets here tomorrow. We've been pushing hard since leaving the GLCC rendezvous in Little Current. A night in Killarney to eat the "best fish & chips in the world", watching a family of otters near our mooring and watching a bear swim across the "cut" right behind our stern was followed by a sail to Cove Island . Cove Island had one of those perfect anchorages, where the writer of the cruising guide liked it so much they made it much scarier than it is to get in.. Thanks to the GLCC Harbor Reports for getting us in safely. A short sail from there to Tobermory on the tip of the Bruce Peninsula saw our last day in Canada . A long day's sail to Harrisville Harbor in MI had us being greeted by Billy and Diane Maier, s/v "Outlandish" who we met in the Chesapeake Bay in 1998. Diane brought us dinner and the leftovers have served us well. From Harrisville to Port Austin we motored and spent the night. From Port Austin to Port Sanilac saw us average over 7.4 knots the whole way: WE FLEW!!. Sanilac to Port Huron saw us get the big staysail up and flying. We actually had it up for over an hour before the wind headed us. Today's journey from Port Huron was mostly motoring due to the currents and heavy ship traffic in the St. Clair River. We were lucky to get down it today as it will be closed periodically over the weekend for the "Offshore PowerBoat Races". We have seen lots of fast, loud powerboats.
July, 14, 2008 Life is good!! It's hard to believe that we are actually doing this. We've been blessed to have such support from friends, employers, colleagues and complete strangers. We are currently docked in Little Current, Ontario , where Manitoulin Island 's only road connection to the mainland is. The Great Lakes Cruising Club is holding its annual Rendezvous, and it's turning out to be a fine party. After leaving the "Soo" we spent one night in Milford Haven, (whose only claim to fame, other than a protected anchorage, was the bigamist that built two houses in the bay for the two sisters that were his wives). From there we went to Bruce Mines and anchored overnight. This is the spot where the Marquee of Queensbury lived and wrote his boxing rules. Then on to Thessalon where we were able to shop and check e-mail from the library using the marina's bikes. The wilderness part of the cruise resumed with stops at Long Point Cove, Oak Bay , Fox Island Harbour and Benjamin Bay (a great sail with 20+ knot winds). After hearing those high winds overnight in The Benjamins, we left the next morning for Little Current where we had the 'pleasure' of paying over $6.00 a gallon for diesel. We have a wi-fi connection here and it has been great fun to do email on the boat and to talk via Skype to friends and family.
The Rendezvous has 90+ yachts in attendance from 30-55 footers. Events include dinner dances, seminars on cruising the area, volley ball contests, blindfolded dingy races, a pet show (yes, our birds will be there) and lots of socializing. Our dock actually has two other Freedom Yachts on it-- we've never seen more than one at a time before. We will be leaving on Wednesday and going to Killarney, Ont., before leaving the North Channel area and crossing to the tip of the Bruce peninsula (Tobermory) prior to returning to the west side of Lake Huron (Michigan) for a while where we will meet up with sailing friends from our previous Caribbean cruises
June 30, 2008 Moored in the Canadian side of Saulte Ste Marie. We spent most of yesterday racing the 30 knot predicted winds and got tied up about an hour ahead of the the high winds. The friendly marina crew convinced us to stay over for July 1st. (Canada Day), which has all the local party centered right on our marina. and we plan on heading down the St Mary's River on Wednesday. The water temperature in the marina here is a full 27 degrees warmer than Lake Superior and we are looking forward to packing away our long underwear.
June 26, 2008, sees us leaving Michipicotan Island ( Quebec Harbour ) in a fog. We arrived yesterday and entered in the fog as well. Good old dead reckoning has been replaced by GPS Chart plotters and PC's. It sure makes sailing easier. While in Quebec Harbour we saw three woodland caribou, a black bear, a beaver swimming by our stern and many loons. Some locals had put out a salt lick about 100 yards from where we were anchored (by an old fishery) and it provided much entertainment. We also explored three wrecks partially submerged in the harbor. We collected assorted agates on Agate Island in the harbor. The previous day we spent exploring the Otter Head area, anchoring in Otter Cove and running the dingy up for lunch at Cascade Falls . We later explored Old Dave's Harbour and the lighthouse on Otter Island . We've seen only 2 small fishing boats so far. Where are the other sailors?
May 12th sees Running Free in the water with hull polished and bottom paint touched up. The new furnace turns out to overheat, so will take some time to get used to setting it on medium when we are cold. Our home on City Dock is being renovated, so we are temporarily at the Apostle Islands Marina on D dock. Cleaning and rigging are next on the agenda.
elcome to my web site!
The home page is a good spot to let visitors know the purpose of this web site. The home page gives visitors an impression of your site's style.
This page was last updated on .
<![if !word & !ppt & !excel & !vml]>

<![endif]>

<![if !vml]>